18 months ago, we signed up to be Official Sponsors of the Boston Marathon. When we signed up we didn't necessarily know what we were getting into. We knew that this was a storied event that reached hundreds of thousands, that it represented the best of its class in sport and it was near many of our customers. We knew that marathon runners made healthy choices and our wholesome fruits would be perfect for them.
After we made our decision to participate we only had a few months to prepare for the 2016 marathon. We arrived with thousands of samples, wide eyed, not knowing fully what to expect.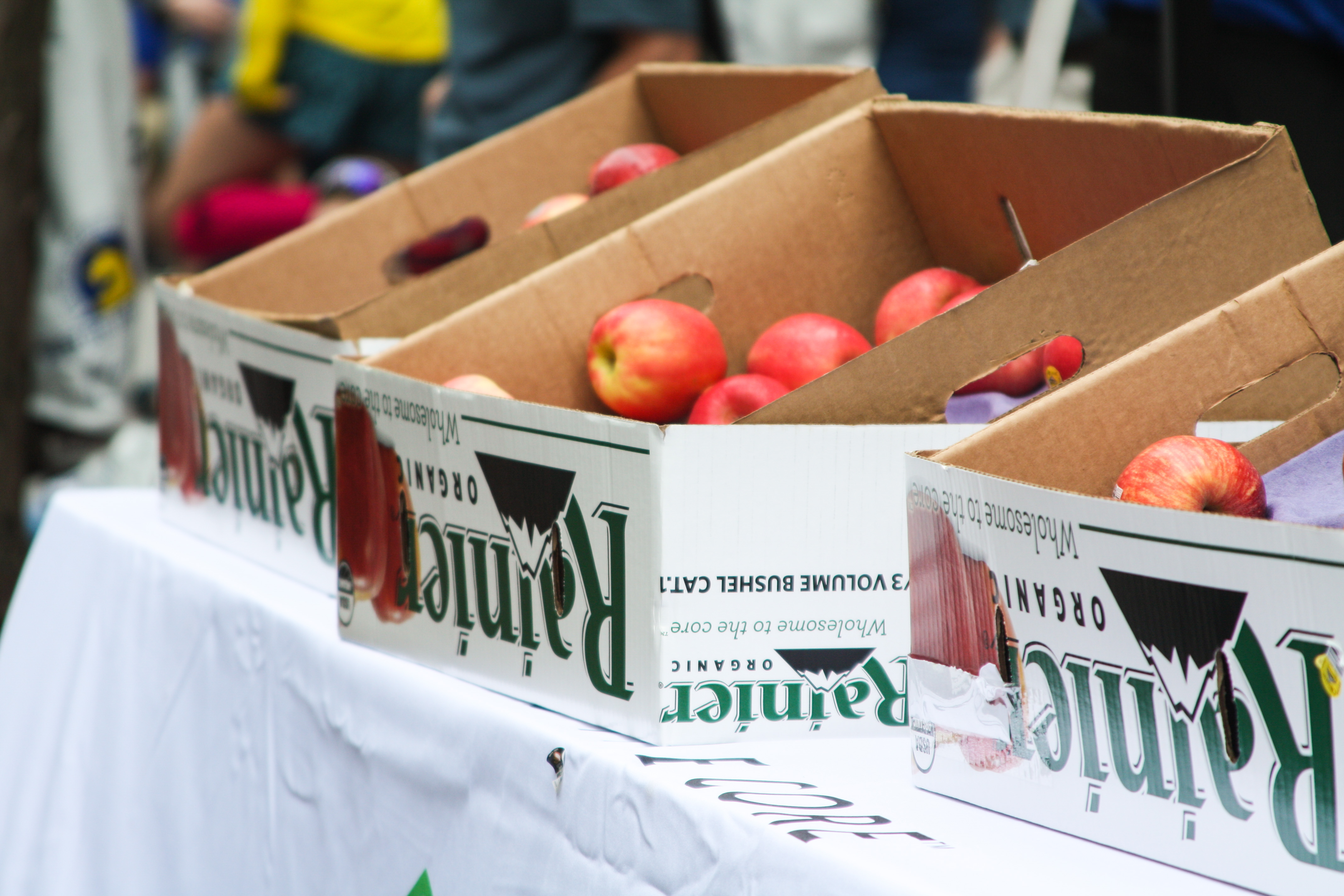 It's funny, as we reflect back one year, it kind of sounds like our journey to grow organics 12 years ago.  We didn't know what to expect, we had lots to learn, but we just knew it was the right thing to do. We jumped in, we learned, we succeeded, we are better for it.
Fast forward one year to our second Boston Marathon and we can tell you we still showed up starry eyed with lots of apples, but the opportunity has given us so much more than we expected. The runners, the fans, the volunteers, the city, our customers… continue to show us why this event is a legacy, what it means to be #BostonStrong and how everyone associated fits our values of Wholesome to the Core.
Now that we've had time to decompress from the events of the race weekend, we wanted to share some of the moments that were the most memorable to us.
One thing is very clear when you arrive in Boston for race weekend; the enduring commitment of the athlete. From the start, race weekend was kicked off by the BAA 5k where 10,000 runners assembled on Saturday morning to run. The 5k also held its own memorable moment when American, Ben True, broke his own record time, setting a new American record of 13:22 minutes. The 5k is a chance for so many to have their moment of glory on Boylston.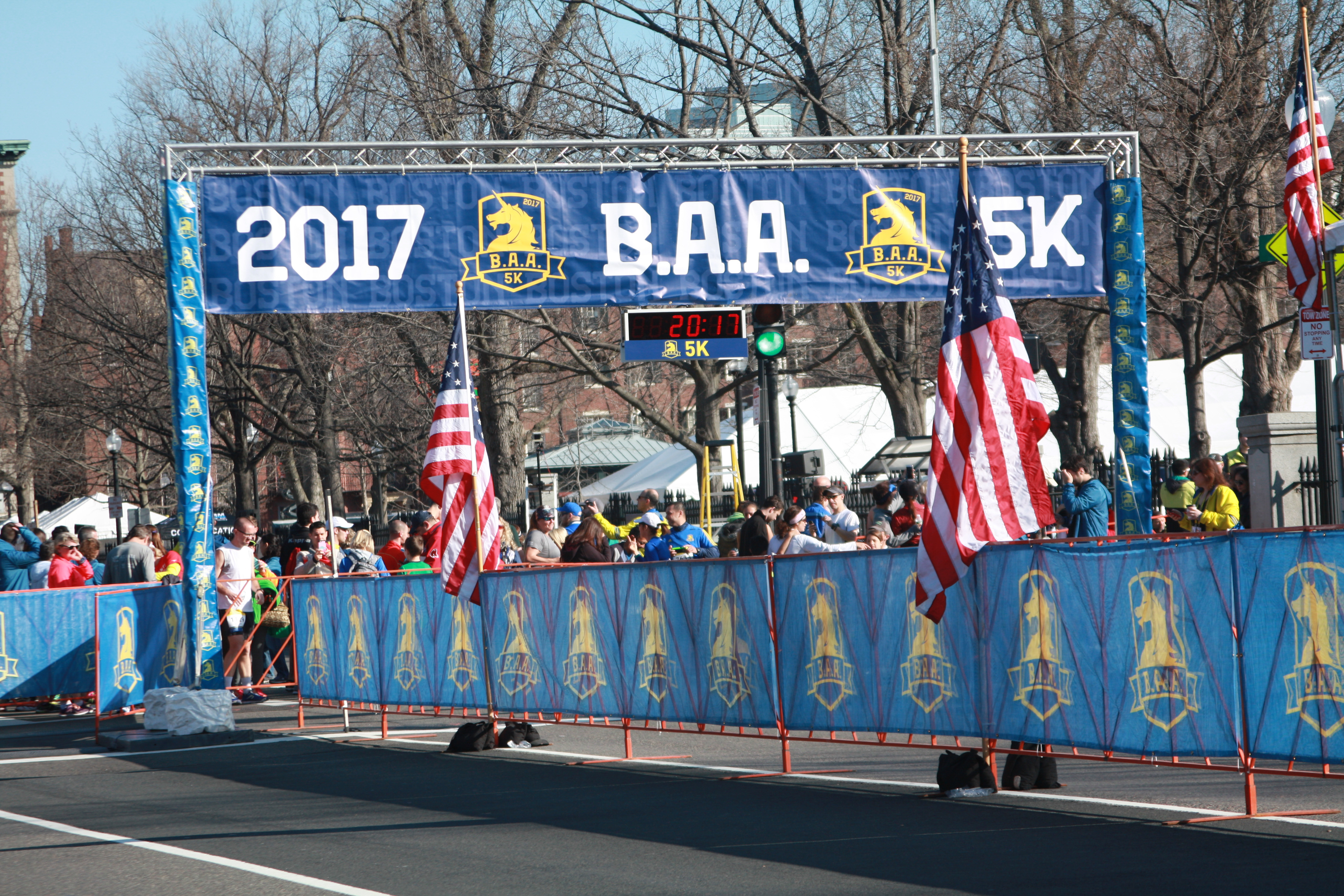 Just like every year, the marathon was filled with individual, wholesome and inspiring stories.
2017 was the year of women for the marathon. One woman in particular that was celebrated was Katherine Switzer, who 50 years ago, was the first female to run the marathon with an official bib number, and she ran it again this year with the same bib number. Today women represent men nearly equal in race numbers.
Meb Keflezighi ran his final Boston Marathon this year and had a powerful finish line moment with Denise and Bill Richard of the Martin Richard Foundation (MR8).  In 2014, the year after the bombing, Meb ran the marathon with the 3 victims' names on his bib and went on to win that marathon dedicating his race to them. Read more about MR8 below.
On an even more personal note, we sponsored 6 runners from our own teams who all ran and completed the marathon. Each of these runners has their own unique story and different goals, but all shared a singular passion to finish the race and be part of the legend. Part of our team was able to greet each runner midway through the marathon to help cheer them on right before tackling Heartbreak Hill, while the rest of the team was there to greet them with hugs and congratulations at the finish line. To read more about each of our #RunWithRainier runners, check out this post: https://rainierfruit.com/and-theyre-boston-bound-for-a-legendary-finish/ and check back soon to hear what our runners thought of their race experience.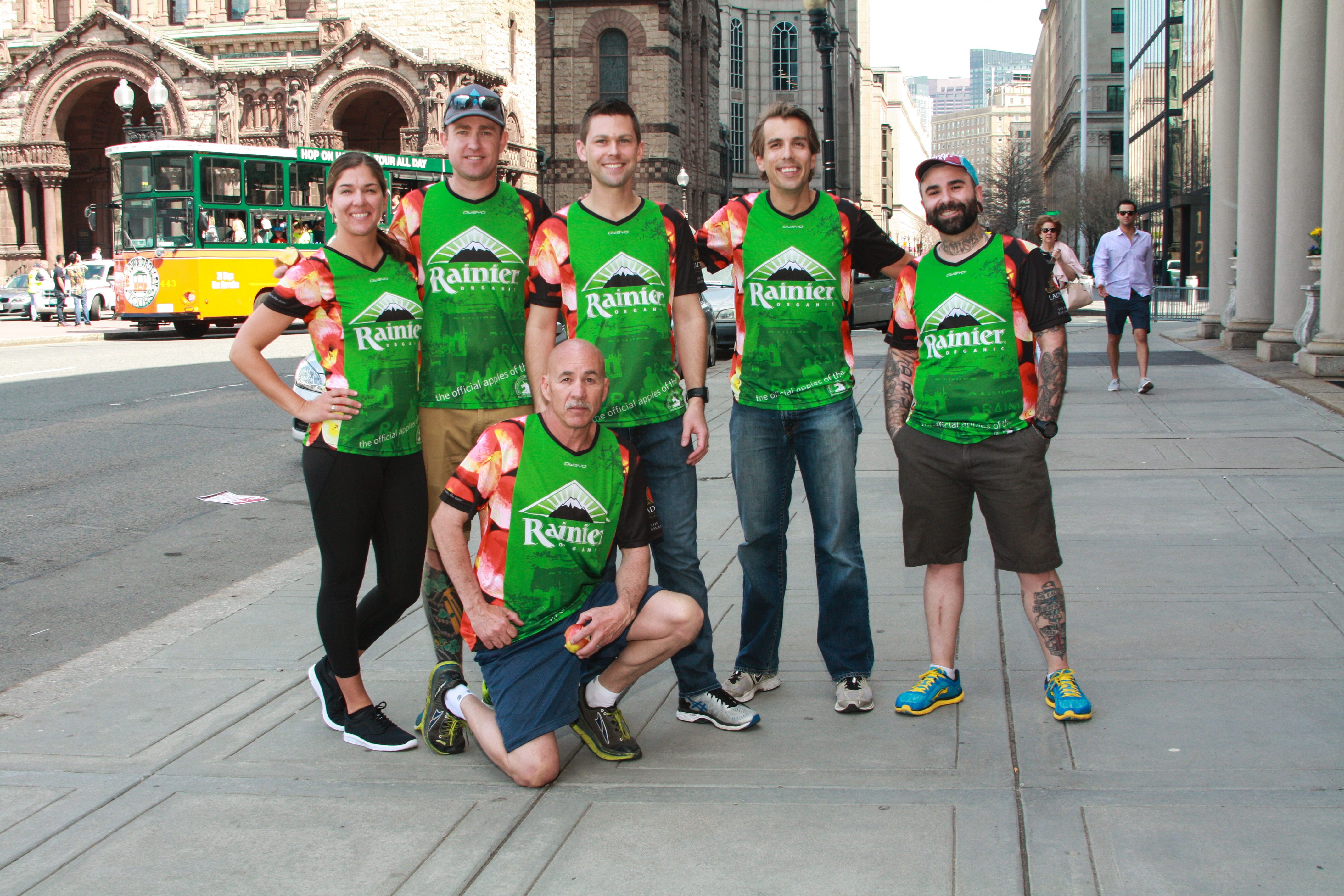 What a lot of people might not know,is that the marathon is not only for time qualified athletes. More that 3000 runners qualify for the race by raising money for charity. They aren't always the fastest runners, but their dedication to their charity and those they run for is its own kind of monumental achievement. In fact, this year, charity runners raised over $200 million for over 30 different charities. One in particular was the MR8 foundation, who had a team of runners in the marathon that raised over $1 million. One member of this team was our #RunWithRainier Ambassador and Boston Race Director, Dave McGillivray.
During the past year we've gotten to know Dave as he shared his stories and motivation with us, and we've learned about his big heart, his dedication, his iron will and more. Dave is a model for a life lived well, for goals set, for limits broken. He represents not only the best of his sport, but the best of himself as he lives true to the values we hold dear; of living Wholesome to the Core. To hear what Dave had to say about this year's marathon in his own words, check out his post here:https://rainierfruit.com/personal-reflections-on-a-special-year-from-the-2017-boston-marathon/.
Another wholesome moment of the marathon weekend was the chance to be part of the world premiere of the documentary, BOSTON, at the Wang Theatre with 3,000 other viewers. The chance to see 120 years of history behind the Boston Marathon with a live soundtrack performed by the Boston Pops was truly memorable and often emotional.
And lastly, one of the greatest things we've taken away from the marathon weekend is the overwhelming sense of community that Boston invokes. More than 500,000 fans support the runners, and each other. Between the cheers and fan signs from the spectators along the marathon route, to the out pouring of volunteer work and support for One Boston Day which we also got to take part in.
One Boston Day was started in 2015 to commentate the spirit and resilience of Boston after the 2013 marathon bombings. One Boston Day is a continued call to come together as community to prove that no dark action will suppress our efforts to come together and support one another. On Saturday, April 15, with the support of our retail partner Whole Foods (WF), all Boston WF stores featured signage promoting our apples. For every pound of apples sold both Whole Foods and us donated $1 to the Martin Richard Foundation. This foundation was started in memory of one of the 2013 victims. Martin was only 8, but he understood the message No Fighting…Peace. Today his foundation raises funds to support local youth programs.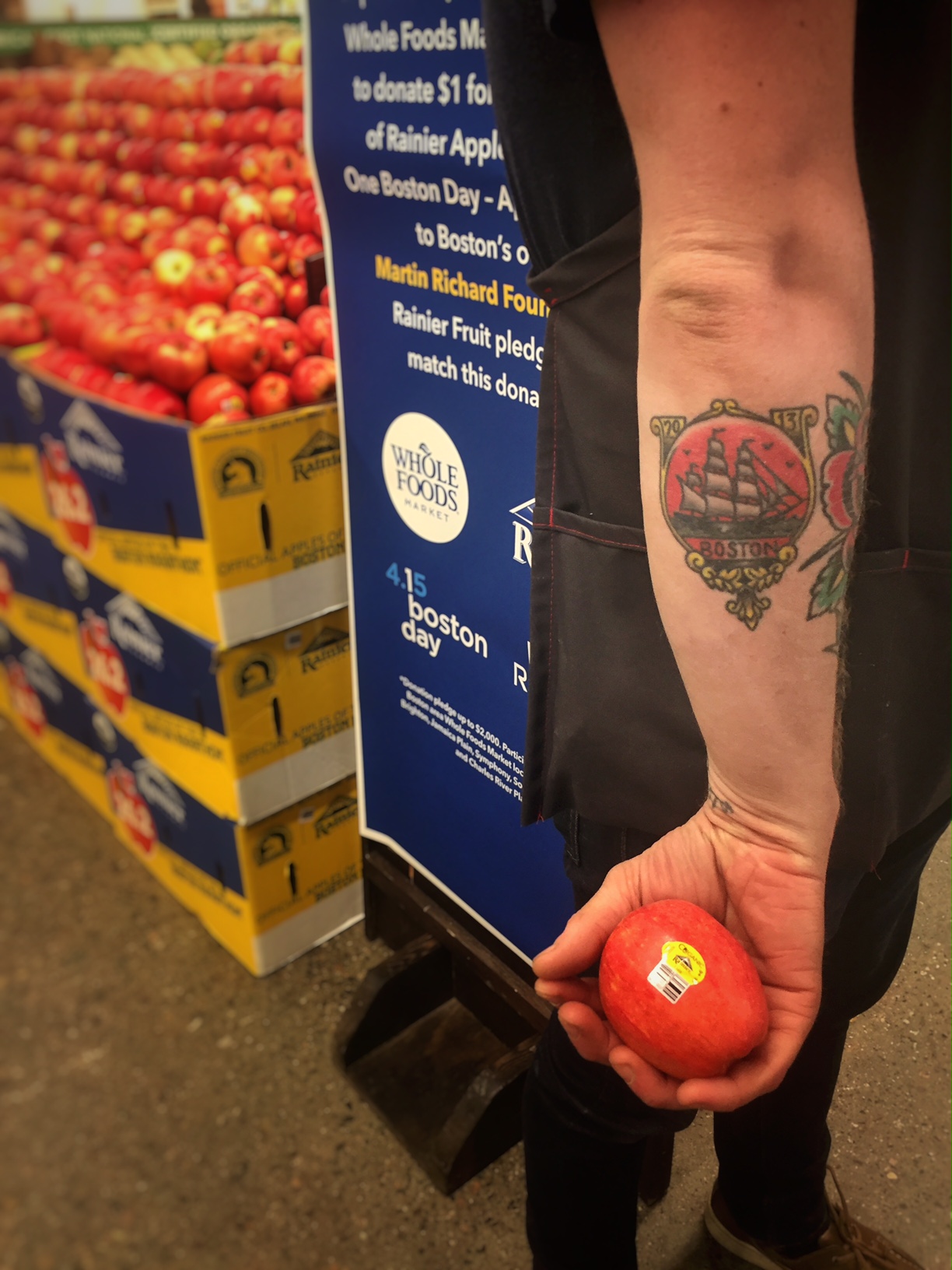 These moments only scratch the surface of the powerful stories and memories from the weekend and we can't wait to go back in 2018. Besides we love hearing "oohhh….you're the apple guys, I remember you from last year and I buy your apples all the time now."
To everyone who's Boston Strong, keep living Wholesome to the Core.