There's something warm and magical about the winter season: whether it's the family gathered around the fireplace celebrating the holidays, curling up underneath a soft blanket with a good book, or the aroma of a warm and savory meal filling the house on a cold day. Perhaps that's why they declared one of the coldest months of the year, February, the Great American Pie Month. Of course, here at Rainier Fruit, our #1 pick to commemorate this occasion is the All-American Apple Pie.
Is there anything better than the smell of cinnamon apple filling permeating throughout the house on a wintery day? Or, maybe it's tucking into that first delicious bite when all the flavors simultaneously meld together in your mouth making you forget every time you've shivered since Thanksgiving. Either way, there's no better way to celebrate the Great American Pie this month than whipping up your own concoction in the kitchen. The apple pie aroma may entice the kids away from the screens, or as the smell wafts down the street, your neighbor might remember to return your rake from last fall!
But not everyone is as skilled and knowledgeable as Betty Crocker so we're here to help you break down our apple varieties to help you choose what's best for your Great American Pie celebration and provide you with a few of the most delicious recipes we've tried this winter.
Here's a quick flavor profile on each of our delicious apples. Each apple variety will create a different pie so make sure to do your research to make the best apple pie for your taste buds, after all, we are all unique – just like our apples.
Lady Alice® – Our proprietary variety, Lady Alice, are crisp and juicy, predominately sweet yet finishing tart, making them perfect for snacks and salads, while the firmness also makes them a great apple for baking. It's this well rounded versatility that lets us say she's the perfect apple.
Honeycrisp – The Honeycrisp apples are a balance between sweet and tart making them a great candidate for baked goods, cooked into sauces and butters, or sliced raw for salads and sandwiches.
Jazz® – The Jazz variety is sweet and tart helping them hold up well when used on a cheeseboard, dipped in caramel, or baked items like crisp, pie, or even paired with chicken.
Envy® – The Envy is sweet and crunchy making it perfect for eating sliced, in salad, or baked into your favorite dessert.
Pacific Rose – The sweet taste of the Pacific Rose is best suited for eating fresh but also lends itself to baked desserts.
Pink Lady® – The Pink Lady apples are tart to start with a nice sweet finish making them perfect for serving sliced on a cheeseboard, or baked into your favorite desserts.
Fuji – The thick skin and dense flesh of the mild yet sweet Fuji apple makes it perfect for cooking in roasts, sauces, and desserts because it holds it shape.
Gala – The Gala is a mildly sweet, thin-skinned apple that makes it best suited for snacking on slices and in fresh dishes like salads, salsas, and chutneys.
Granny Smith – The Granny Smith's sweet and tart flavor profile along with its ability to hold shape when cooked makes it the ideal ingredient for pies, tarts, sauces, and smoothies. This apple is often the "go-to" pie apple.
Golden Delicious – The Golden Delicious is a delicate apple with a balanced sweet flavoring make it great for eating sliced, in salads and sandwiches.
Red Delicious – The Red Delicious apple, famous for its bright red skin and mild flavoring, has a thin skin that easily breaks down when cooking making it best served fresh in slices, sandwiches, or salads.
Now that you know a little more about the differences in apple varieties it's your turn to pick your perfect Rainier Apple for your pie.  So get slicing, give it the spices, and get baking! Whether you're using store-bought crust or making it from scratch doesn't matter much to us, it's about sharing love through food and being Wholesome to the Core that counts.
And if you need a little pie inspiration here's a few ideas to get you started. Not gonna lie…things like maple and bacon really have a way of amping up the average apple pie.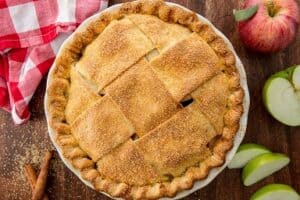 Delish – Best Homemade Apple Pie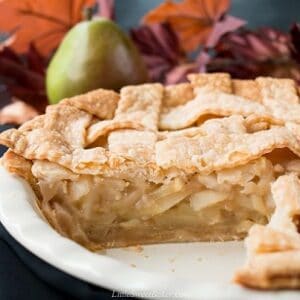 Eating Well – Maple-Ginger Apple Pie