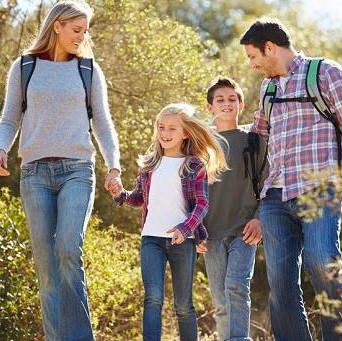 Hiking is a wonderful and wholesome way to immerse yourself in the outdoors! It is wonderful because you can discover nature at whatever pace you're comfortable with. And with a little planning and prep on the front end, it's a wholesome and healthy family activity that can build a lifetime of memories.
Start by making sure you're carrying these 10 Essentials. This is a collection of gear and clothing that all hikers should carry whenever they step onto the trail. The collection includes items for navigation, sun protection, insulation, illumination, first aid, fire, repairs, nutrition, hydration and emergency shelter.
Navigation
Be sure to be safe. Make sure you have a map, compass, altimeter, GPS device, personal locator beacon (PLB) or satellite messenger. If the trail is not heavily occupied, make sure you let someone else know what time and where you started.
Headlamp
It is always advisable to carry along a headlamp to have hands free viewing into caves or if you loose track of time and the hike goes a little longer than planned. And don't forget to add in the extra batteries. https://www.rei.com/learn/expert-advice/headlamp.html
Sun Protection
Everyone needs to be smart when it comes to protecting yourself from the sun. Make sure to apply sunscreen at the beginning of the hike and bring along sunglasses, sun-protective clothes and additional sunscreen.
First Aid
You don't need to be a medical pro to take a hike, but it's wise to know some basic first aid. Always carry a first-aid kit and know how to use it. The farther afield you go, the more important it can be to have medical training. Make sure you pack items like blister band aids, and insect repellent as necessary. first-aid kits.
Knife
Every adult should carry a knife and one person should have a gear repair kit. Knives are handy for gear repair, food preparation, first aid, making kindling or other emergency needs, making them an essential for every outing.
A basic knife may have only a single foldout blade; more elaborate knives and multitools include things like one or two flathead screwdrivers, a can opener and/or a pair of foldout scissors. The more complex your needs (if, for example, you are leading an inexperienced group), the more options you may want in your knife or tool. Get help choosing a knife.
Gear Repair Kit
In addition to a knife, a small gear repair kit can get you out of a bind in the backcountry (and the more remote you are, the more important your kit becomes). Common items include duct tape, cordage, fabric repair tape, zip ties, safety pins and repair parts for a water filter, tent poles, stove, sleeping pad, crampons, snowshoes and skis. Check out our Backpacking Repair Kit Checklist for more ideas.
Fire
Even if you are not camping, taking along matches, a lighter & tinder could come in handy. In case of an emergency, you need to have reliable supplies with you for starting and maintaining a fire. For many people, this is a disposable butane lighter, but matches are also suitable so long as they are waterproof or stored in a waterproof container.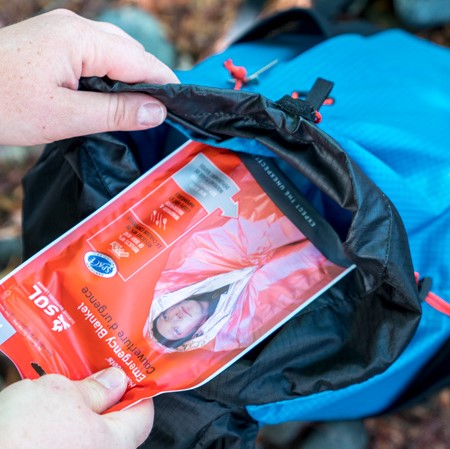 Emergency Shelter
Always carry some type of emergency shelter to protect you from wind and rain in case you get stranded or injured on the trail. Options include an ultralight tarp, a bivy sack, an emergency space blanket (which packs small and weighs just ounces) or even a large plastic trash bag.
Food
Nutrition is important on the trail. As a beginner hiker, it can be tough to know how much food and water you need, A good general recommendation for how much to eat is 200–300 calories per hour. Be sure to take extra fruit like apples, pears, cherries or blueberries, energy bars, and trail mix. Some hikes go longer than expected. Especially with little ones.
Water
Hydration is key. Make sure you have adequate amounts of water. A good rule of thumb is about a half liter per hour of moderate activity in moderate temperatures. These amounts depend heavily on several factors, such as the intensity of your hike, the weather, your age, your sweat rate and your body type. As you gain more experience, you'll get a better sense for just how much you need. A few tips include drinking every 20 minutes using sips not big gulps; drink more in higher altitudes; replace electrolytes on hikes longer than an hour; remember to drink in cold weather; and set a timer for every 20 minutes to remind everyone to drink. https://www.popularmechanics.com/adventure/outdoor-gear/g2986/best-water-bottle/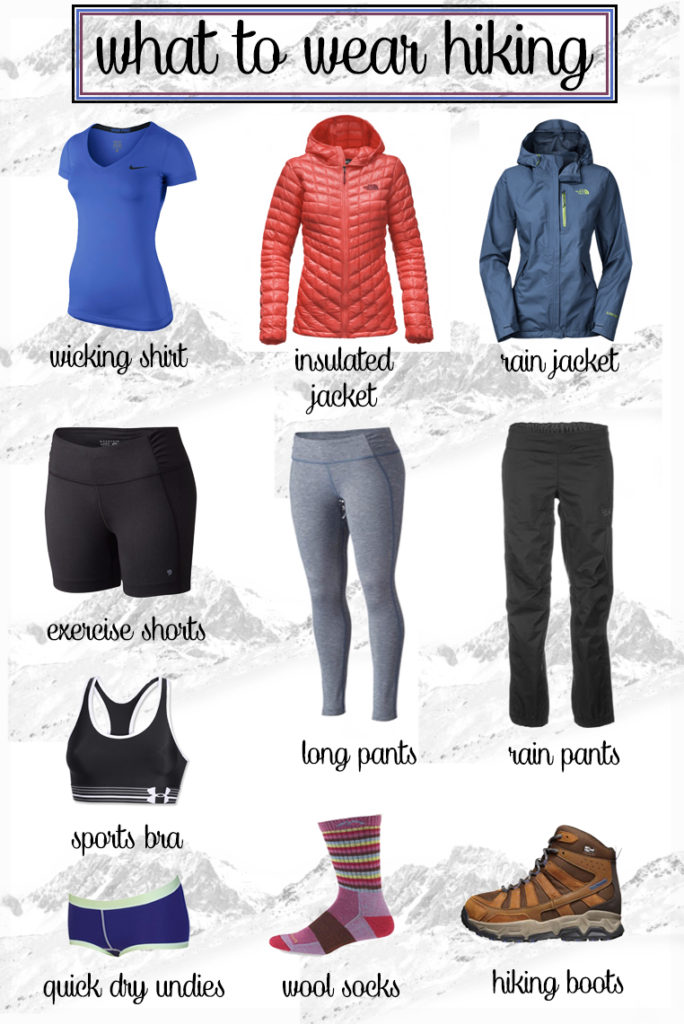 Clothing & Footwear
And last but not least, in order to make it a great hike, you will need great shoes and clothing. Let's talk about hiking footwear. It is one of the most important items you need to choose, and it's a very personal choice. Some hikers prefer supportive over-the-ankle boots, while others enjoy lightweight trail-running shoes. The terrain you'll be walking on can also affect your decision. Lightweight, low-cut shoes may be fine on well-maintained trails without a lot of obstacles, whereas sturdy boots may serve you better on a rugged trail with rocks, roots and streams. Whatever you choose, make sure the boots or shoes are well broken-in and comfortable for long distances. And wear wool or synthetic socks, not cotton.
Learn more:
After you select your shoes, you need to choose the right clothing. It needs to be made of quick-drying, moisture-wicking fabrics, such as wool or polyester. Avoid cotton, which takes a long time to dry when wet. You can think of clothing as separate systems:
Next-to-skin base layers: Made of wool or polyester, these are most important in cool to cold temperatures.
Hiking layers: These include nylon and/or polyester pants, T-shirt, sun shirt, sun hat.
Insulation: Depending on the weather, you may need a puffy vest or jacket, lightweight fleece pullover, warm hat and gloves.
Rainwear: It's wise to carry a waterproof jacket no matter the weather forecast. If you're expecting wet weather, bring the rain pants along, too.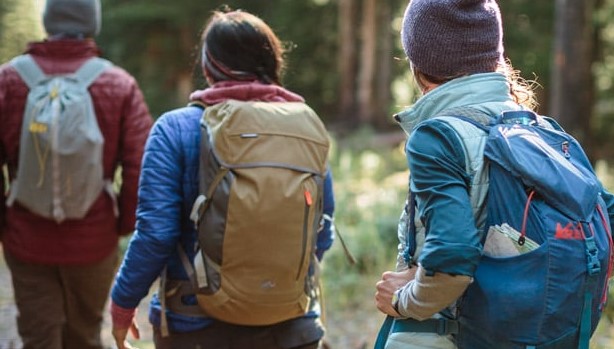 BONUS – Hiking Backpack
Of course, you need a pack to carry your Ten Essentials and any extra gear.
For short treks on trails that are close to home and on days with pleasant weather, a daypack with a capacity of about 15–20 liters provides enough space for water, a few snacks and a lightweight clothing layer.
When you venture farther into the wilderness, you'll need to carry more gear, clothing, water and food. A pack with a capacity of about 30 liters is a good choice for these journeys.
Learn more:
Whether you chose a short hike, long hike, nearby and familiar path or something a little more rugged, remember that the key is to get moving and enjoy the outdoors. That's Wholesome to the Core.