The best way to live a healthy active lifestyle is to find activities that you and your family enjoy. Sports like running and cycling can be limiting depending on the age or skill of group members, but hiking has very few limitations for age or skill. In fact, hiking creates opportunities to spend time together, get exercise, explore new areas and spend time in nature.
Hiking is now the fourth most popular lifestyle activity behind running, cycling and fishing. In fact 45 million Americans spend time hiking trails all over the U.S. each year. If you're not already a hiker, here are a few tips to get you started. And if you already spend time on the trails, here's your chance to think of new ways to add miles or challenges to your current hikes.
We challenge you to get outside and find a trail.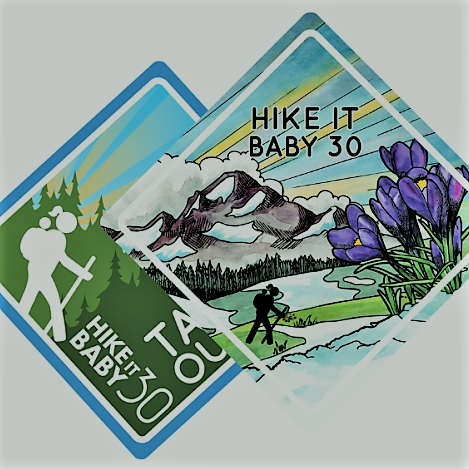 1. Participate in a Challenge.
The 30 Day Challenge is a good way to get hiking. Motivate your family to get outside for 30 minutes 3 times a week or hike 30 miles in 30 days. You can add to the challenge by asking another family to join in the challenge. You will be surprised with the results! Click on the link below to find hiking trails in your area.


Hiking Project
For trail suggestions near you, check out the Hiking Project. It gives you access to more than 83,000 miles of trails and includes maps, high-res photos and detailed descriptions. Better yet, let your kids help pick the trail and plan the route. Find Your Hike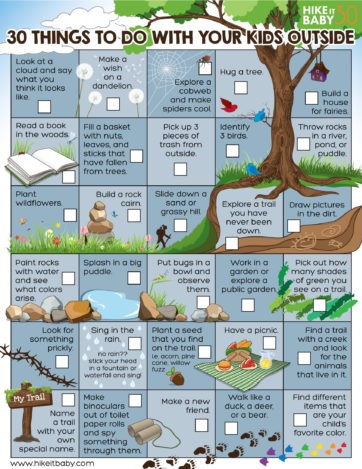 2. Create a seasonal BUCKET LIST.
Having a seasonal bucket list that includes some of your favorite activities to participate in as a family can be a fun way to get the kiddos excited for the upcoming seasonal changes. Whether it is to go sledding in the winter, search for wildflowers in the spring or splash in a creek in the summer, these lists can keep you motivated to seek out nature and new trails whenever you have the chance. Check out this fun bucket list for the winter. https://hikeitbaby.com/30-things-outside/

3. Keep it easy & feature-friendly.

Select a hike that isn't too long or too strenuous – remember that for kids, the hike is about the experience. Picking a trail that has some features – be it a lake, stream, waterfall or something else will keep kids occupied and give them a goal to reach. And remember, it's about the journey not the destination. If your child is more interested in getting down on their hands and knees to explore the undergrowth, then that is the experience for the day – there will always be a next time.


4. Prepare for anything.

This pretty much goes for any hike. Always make sure to pack the essentials and plan for changing weather.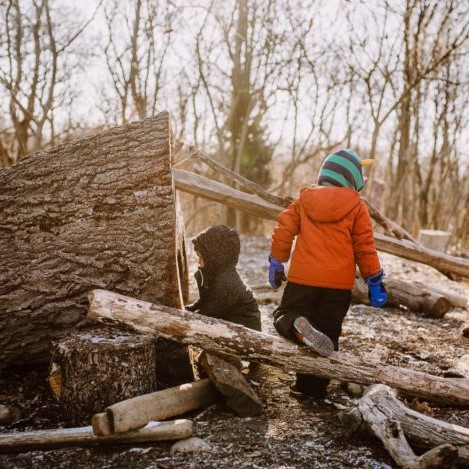 5. Dress for success .
There's nothing that can ruin a hike faster than not having the right gear, most importantly clothing and shoes. Layers, layers, layers. Make sure that you take ample amounts of clothing in case you get chilled while out on the trail. Always bring rain clothes – aside from the wet weather, they can also be great windbreaking clothing. Don't forget hats and gloves for everyone – even in the summer, mornings can be chilly. Make sure your kids have adequate hiking shoes, depending on terrain; this could range from hiking sandals to hiking boots. Finally, always pack a change of clothes and leave them in the car for your return from the trail – chances are you'll be wet or muddy!
6.Plan frequent energy stops.

Hiking requires a lot of energy, even if it's a short hike. Energy-sapped kids often equate to cranky kids and the same applies to hangry adults. Stay fueled and motivated with numerous small breaks for fluid and food. Apples make a quick and healthy snack. Bring a zip lock bag to dispose your core. Although compostable, decaying food of any kind can attract unwanted animals and bugs to the trial.

7. Pick a leader and make sure to rotate.

Pick a leader and make sure to rotate. Kids love feeling like they are in charge. Having the children take turns leading the hiking group can help the kids feel empowered and allows the group to move at different rates to accommodate all the hikers.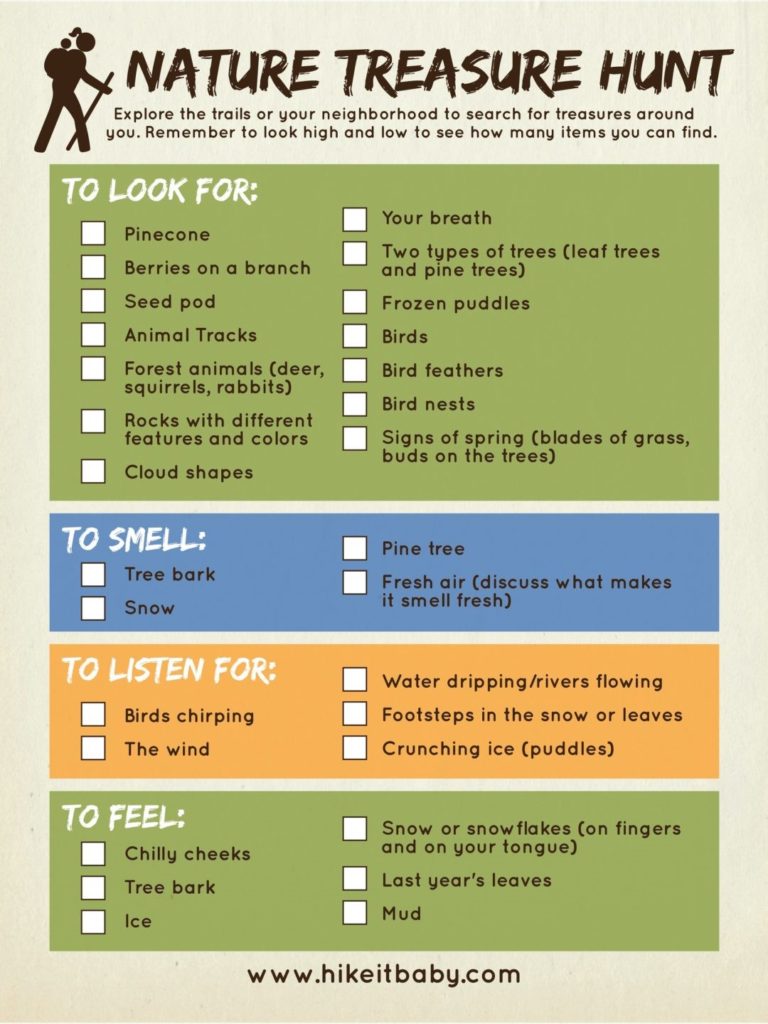 8. Make it fun!
The key to hiking success is to having fun. Create games that you and your children can play out on the trail. Have them look for signs of wildlife (scat, bird holes in trees, fur) or count wildflower species. Organize a scavenger hunt and have them find things that are bumpy, smelly, small, big, living, wet…the list goes on!

Plan a NATURE SCAVENGER HUNT.
Scavenger hunts are one of the most versatile options for sparking the interest of kiddos (and adults) of all ages! They can be tailored to the season, the environment, the intended age group, which of the five senses you are focusing on, you name it! For example, I created a scavenger hunt tailored to a garden at a nearby park. We had the kiddos look for flowers of different colors along with animals they may see in the garden and pond nearby. Here is a nature scavenger hunt that focuses on using all your senses. You can read more about exploring the senses using scavenger hunts in this article, or find tons of links and ideas for other scavenger hunt options here.
Hiking BINGO.
Just like a scavenger hunt can add interest to a hike – so can a game of bingo. You can create a Bingo sheet with customized squares to include various outdoor-related activities from something as simple as "find evidence of wildlife" to "jump in a puddle" to grander goals such as "hike 2+ miles" or "go on a sunset hike." You could even have prizes for the first to Bingo!
9. Leave no trace.
We are all responsible for our environment. Leave no trace means, what goes in, comes out…that applies to food waste like apple cores and banana peels. The common mantra is "pack it in, pack it out." It's also not a bad idea to take a small garbage bag and pick up any litter you see on the way back to the car. It's a great act of being wholesome to the core.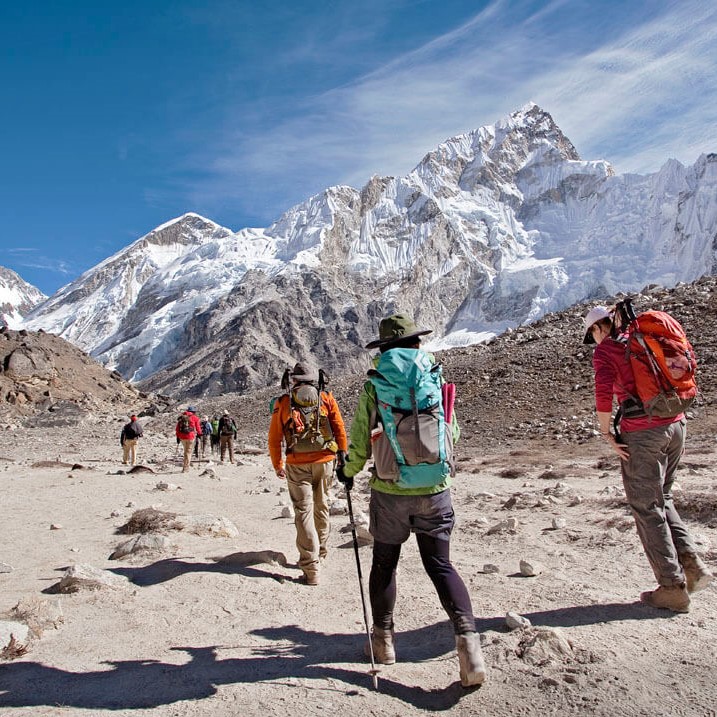 10. Hike often!
Like anything, it's not a habit until you do it regularly. The best way to start hiking is to make a plan to go often.
We at Rainier, all know the outdoors plays a role in our overall health and wellbeing so keep living Wholesome to the Core and let nature be your guide.