We don't spend a lot of time worrying about trends here in Selah, WA. We focus our time and energy on growing great fruit. However, that' doesn't mean we are so busy working in the orchards that we don't know what's going on in the world. In fact we know that smoothie bowls are all the rage.
Personally, we like our smoothies in a cup, because a bowl gets a little difficult to handle in the tractor. But, we also know that for some of the mornings we get office time or weekend family time – a smoothie bowl seems just about right. The combination of creamy smoothie flavors, with crunchy and hearty toppings is kind of awesome. And we've found some tasty ideas from some great bloggers. Check them out and tell us about your favorite smoothie bowls.
Apple Pie Smoothie Bowl from Fit Foodie Finds
Yes, please – apple pie, in a bowl – we're in.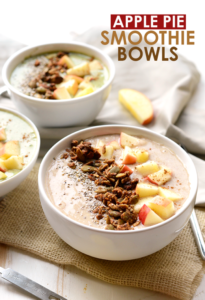 Cinnamon Crunch Apple Smoothie Bowl from Get Inspired Everyday
This looks divine. The spinach and green apples give this dish such a bright refreshing look we want one now.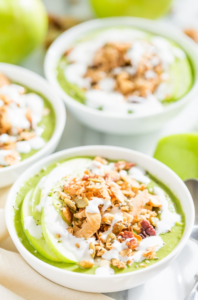 Caramel Apple Crumble Bowl from I Love Vegan
This bowl looks like creamy deliciousness. Although the recipe doesn't call directly for apples, note that there are apple slices on top to add extra crunch and tanginess. And the cool part is – the caramel mixture makes extra, perfect for apple dipping later.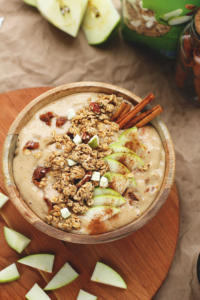 Spiced Apple & Oatmeal Smoothie Bowl from Kitchen Konfidence
When we hear spiced apple it reminds us of fall and spiced apple cider – a staple around here. So this smoothie bowl feels like the perfect start to a cloudy and cool fall morning.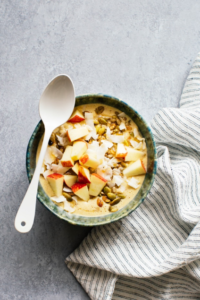 Chai Apple Pie Smoothie Bowl from The Food Network Blog
OK – gotta admit, a few of us love a Chai Tea in the morning – so Chai Apple pie sounds like a great addition to any morning routine.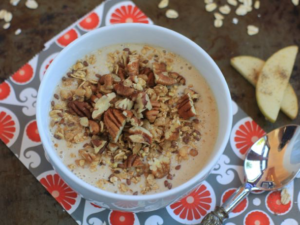 We can't wait to try each of these great recipes.