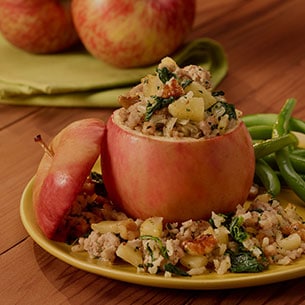 Ingredients:
1 cup brown rice, dry
1 cup water
½ cup low-sodium chicken broth
12 oz ground turkey sausage
2 Tbsp chopped onion
4 apples
1/2 tsp ground sage
¼ tsp salt
ground black pepper, to taste
1 cup frozen chopped spinach, thawed and drained
2 Tbsp chopped walnuts
1 tsp vegetable oil
Instructions:
Pre-heat oven to 350 degrees. In a medium sauce pan, add rice, water and chicken broth. Bring to a boil and let simmer 40 minutes. Brown turkey sausage in a sauté pan. Pour off drippings and place sausage in medium mixing bowl. Add chopped onion to pan. Cook until onions are translucent; remove from heat.
Cut about ½″ off the top of the apples; set aside tops for baking. Using a melon baller or sturdy spoon, carve out the middle of the apple, discarding core and seeds. Chop removed apple flesh. Add chopped apple, sautéed onions, spinach, sage, salt, pepper, walnuts and cooked rice to sausage and stir.
Stuff apples with the mix. Place apples in square baking dish coated with oil. Spread any remaining stuffing mix in the dish. Add apple caps. Cover with lid or aluminum foil. Bake 30 minutes.
Lunch, Entrée, Dinner, Healthy, Easy, New