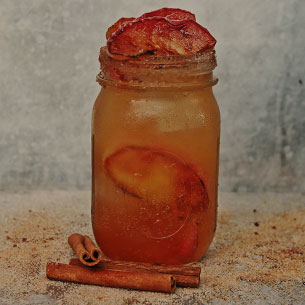 Ingredients:
1 Pink Lady® apple, sliced
1.5 ounces vodka
1/2 lemon, juiced with rind reserved
1 cup ice
4-6 ounces ginger beer, depending on size of glass
1/4 cup sugar
1 tablespoon cinnamon
Instructions:
Preheat oven to 425 °F. Roast sliced apples for 15-25 minutes depending on size of slice and desired texture.
Fill a cocktail shaker with vodka, lemon juice, ice, and ½ of the roasted Pink Lady® apple and shake.
Combine sugar with cinnamon on a plate. Moisten rim of glass with reserved lemon. Dip rim into cinnamon sugar mixture and lightly tap off excess.
Pour liquid mixture into serving glass and top with ginger beer.
Garnish: Sprinkle 3 slices of roasted Pink Lady Apple with cinnamon sugar mixture, skewer with toothpick and rest across glass.
Cocktail, Drink, Beverage, Easy