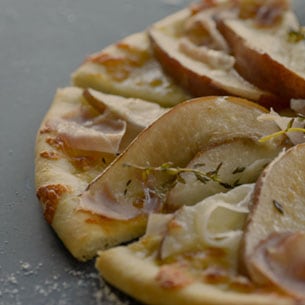 Pear Pizza With Prosciutto
Ingredients:
1 prepared pizza dough crust (such as Boboli)
3 tablespoons extra virgin olive oil
3 cloves garlic, minced
2 ounces grated fresh Parmesan cheese
3 ounces chopped prosciutto
1 Red Anjou pear, cored and thinly sliced
Instructions:
Preheat oven to 450 degrees.
Place pizza crust on baking sheet. Spread olive oil and garlic over the pizza crust. Top with cheese, prosciutto, and pear slices. Bake for 12–15 minutes or until cheese is melted and bubbly. Slice and serve.
Appetizer, Lunch, Entrée, Dinner, Quick, Easy, New