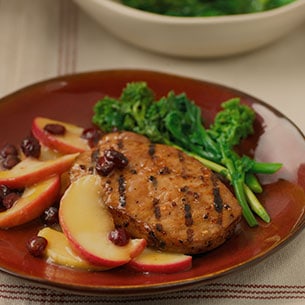 Honey Mustard Pork Chops With Apples
Ingredients:
4 boneless pork chops (about 4 ounces each)
Spice rub for pork (e.g., McCormick Grill Mates Smokehouse Maple Seasoning)
4 Junami apples, peeled, cored and sliced 1/4 inch thick
2 tablespoons butter
2 teaspoons lemon juice
1 tablespoon honey
2 teaspoons Dijon mustard
1/2 cup dried cranberries, if desired
Instructions:
Season pork chops with spice rub and let stand at room temperature while preparing apples.
Melt butter in a 10-inch skillet over low heat. Add apple slices and sprinkle with lemon juice. Cook apples 12 to 15 minutes, stirring occasionally, until softened and fork tender. Stir in the cranberries.
Combine the honey and mustard in a small bowl. Stir into the fruit and continue cooking over low heat until the fruit is glazed.
Meanwhile, prepare the grill. Cook pork over medium high heat 8 to 10 minutes, turning once, until cooked through. Serve with glazed apples.
Main Dish, Dinner, Entree, Healthy, Easy, Quick