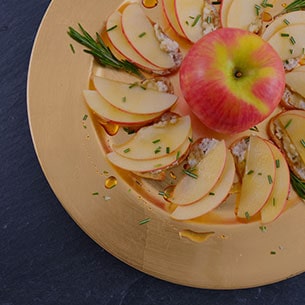 Rosemary Ricotta Crostini with Lady Alice® Apples
Ingredients:
30 rustic baguette slices (not thicker than 1/2″)
2 medium Lady Alice® apples, sliced thinly
1 – 15oz container whole or part-skim ricotta cheese, room temperature
5 oz Gorgonzola or bleu cheese, crumbled and room temperature
1 tablespoon honey
1 teaspoon fresh rosemary leaves, chopped
1 teaspoon freshly ground black pepper
Chopped rosemary leaves for garnish
Instructions:
Preheat oven to 350°F.
Toast baguette slices for 5 minutes on each side or until desired crispness is reached.
In the meantime, combine ricotta cheese with Gorgonzola cheese. Add honey, chopped rosemary, and black pepper. Spread mixture on each baguette slice. Top each crostini with a slice or two of apple. Garnish with chopped rosemary.
Goat cheese may also be substituted for the Gorgonzola/bleu cheese.
Appetizer, Easy, Quick, Vegetarian