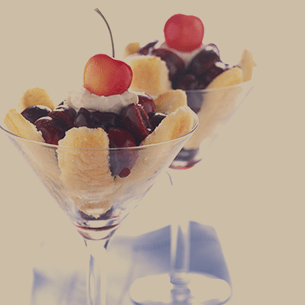 Ingredients:
2 cups pitted, halved fresh dark sweet cherries
1/4 cup almond liqueur
2 teaspoons sugar
12 lady fingers, split in half lengthwise
1/4 cup whipped lowfat cream cheese
4 whole fresh dark sweet or Rainier cherries with stems
Instructions:
Mix cherries, liqueur and sugar; marinate 1 hour or longer.
Arrange lady fingers against sides of four martini glasses. Just before serving, spoon 1/2 cup cherries over lady fingers in each glass. Swirl 1 tablespoon cream cheese over cherries in each glass. Garnish with whole cherry and serve.
Tips:
Orange liqueur may be substituted for almond liqueur.
Angel food cake or pound cake, cut into 3x1x1/2-inch strips, may be substituted for lady fingers. Lightly toast strips, if desired.
Whipped cream or topping, dairy sour cream or créme fraiche may be substituted for cream cheese.
Dessert, Vegetarian, Quick, Easy