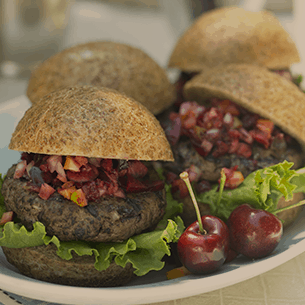 Ingredients:
1 pound lean ground beef
1 cup pitted and chopped fresh dark sweet cherries
1/4 cup chopped shallots
2 tbsp chopped fresh basil
1 small clove garlic, minced
1 tbsp Worcestershire sauce
3/4 tsp salt
1/4 tsp ground black pepper
Hot Cherry Orange Relish
4 whole wheat hamburger buns
4 large lettuce leaves
Instructions:
Combine ground beef, cherries, shallots, basil, garlic, Worcestershire sauce, salt, and pepper; mix well. Form meat into 4 patties. Grill patties over medium heat about 15 minutes, turning once halfway through cooking time, for medium doneness or cook to desired degree of doneness. Toast hamburger buns over barbecue grill if desired. Place lettuce leaf on bottom half of hamburger bun, beef patty on lettuce and top with relish.
Hot Cherry Orange Relish:
Combine 1 cup pitted and chopped fresh sweet cherries, 1/2 cup chopped unpeeled orange, 1/2 cup chopped sweet onion, and 1 chopped pickled jalapeno pepper. Season to taste with salt and pepper, if desired. Makes about 1-1/2 cups.
Main Dish, Entrée