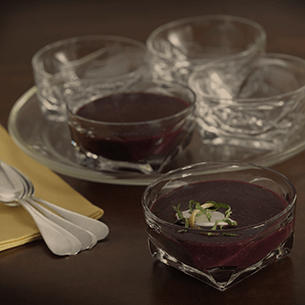 Ingredients:
1 1/2 pounds seedless grapes
16 ounces fresh blueberries
3/4 cup white grape juice
3 tablespoons honey
3 teaspoons grated lemon rind
3 tablespoons fresh lemon juice
1/2 teaspoon salt
fresh mint leaves for garnish (optional)
Instructions:
Remove stems from fruit. Rinse and pat dry. Place fruit in a 4-quart saucepan over medium-high heat. Add grape juice and honey; bring to a boil. Reduce heat to medium; simmer 15 minutes, stirring occasionally. Remove from heat; let stand 10 minutes. Place blueberry mixture in a food processor; process until almost smooth. Strain; discard solids. Chill 2 hours.
Stir in lemon rind, juice and salt. Ladle about 1/2 cup into each of five chilled bowls; garnish with mint and additional lemon rind, if desired.
Tip:
Top with honeydew, cantaloupe, strawberries or a dollop of Greek yogurt for added flavor.
Soup, Gluten-Free, Vegetarian