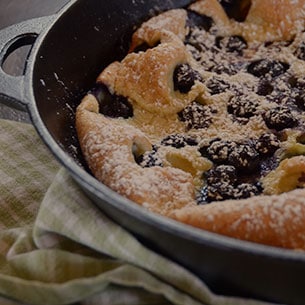 Ingredients:
3 large eggs
1/2 cup milk
1 teaspoon vanilla
1/2 cup flour
1/2 teaspoon salt
1/2 teaspoon cinnamon
2 tablespoons butter
1/2 to 1 cup fresh blueberries (to preference)
powdered sugar for dusting
Instructions:
Preheat oven to 425°F.
Add butter to 12 inch cast iron skillet and allow to melt while oven is preheating. (Monitor butter to make sure it doesn't burn.)
Beat eggs in a large mixing bowl with the milk and vanilla. In a smaller mixing bowl, sift flour, salt, and cinnamon. Add dry mixture to eggs, milk, and vanilla. Whisk until combined.
Pour mixture into preheated and buttered skillet and sprinkle blueberries. Bake for 15 minutes at 425°F, then reduce heat to 325°F and bake for 10 more minutes.
Remove from oven, cool briefly, and dust with powdered sugar.
Breakfast, Brunch, Dessert, Easy