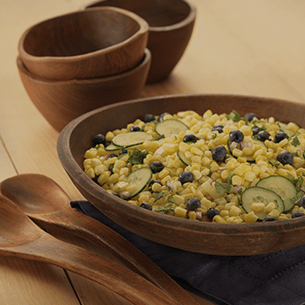 Ingredients:
6 cups frozen corn
1 cup fresh blueberries
1 cucumber sliced
1/4 cup red onion, finely chopped
1/4 cup fresh cilantro
1 jalapeno pepper seeded and finely chopped
Dressing
3 tablespoons lime juice
3 tablespoons olive oil
1 1/2 tablespoon honey
1/2 teaspoon ground cumin
1/2 teaspoon salt
1/4 teaspoon black pepper
Instructions:
Cook corn according to package instructions and set aside to cool.
In a large serving bowl, combine corn, blueberries, cucumber, red onion, cilantro, and jalapeno. To make the dressing, whisk together lime juice, oil, honey, cumin, salt and pepper. Pour dressing over salad and stir until combined. Cover and refrigerate until ready to serve.
Salad, Vegetarian, Gluten-Free, Quick, Easy