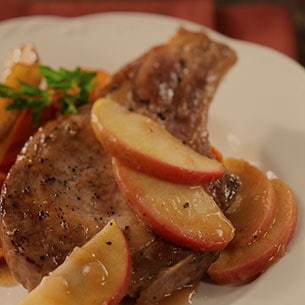 Baked Pork Chops with Apples
Ingredients:
1 cup brown rice, dry
4 bone-in loin pork chops (about 1 ¼ pounds)
1 tablespoon olive oil
1 cup chopped onion
1 ½ pounds sweet potatoes, peeled and sliced 1/4-inch thick
1 cup sliced carrots
2 apples, peeled, cored and sliced
¾ cup +1 tablespoon 100% apple juice, divided
1 teaspoon cinnamon
½ teaspoon salt
fresh ground black pepper, to taste
1 tablespoon cornstarch
Instructions:
Pre-heat the oven to 350 degrees. Heat the olive oil in a large sauté pan over medium high heat. Season the pork chops with salt and pepper add to the sauté pan. Cook until browned on both sides, turning once, about 5 to 7 minutes. Remove and keep warm.
Add the onion to the pan and cook 1 to 2 minutes or until onion begins to soften. Add the sweet potatoes, carrots and apples and top with the pork chops. Mix the 3/4 cup apple juice, cinnamon, salt and pepper and pour over the pork chops. Bring mixture to a boil.
Cover and bake 40 to 50 minutes or until pork chops are cooked through and fruit and vegetables are fork tender. Remove the pork chops, vegetables and apples with a slotted spoon and place on serving platter. Keep warm.
Mix the cornstarch and remaining 1 tablespoon apple juice and add to the pan juices. Cook over medium heat until thickened, stirring constantly. Pour sauce over meat.
Entrée, Dinner, Quick, Easy, New