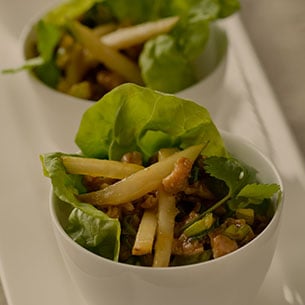 Asian-Style Pork Lettuce Wrap Recipe with Pears
Ingredients:
12 cup-shaped lettuce leaves, from about one head lettuce
1 pound ground pork
1/2 cup finely chopped shallots
2 teaspoons grated ginger
3 tablespoons mirin
2 teaspoons fresh lime juice
1-2 teaspoons fish sauce, to your taste
2 firm ripe pears such as Anjou or Green Bartlett, small dice
1/2 cup roasted and salted cashews, roughly chopped
4 scallions, sliced thinly
Instructions:
Pick 12 nice lettuce leaves, wash them, shake or spin dry, and place in the refrigerator to crisp.
In a wide sauté pan over medium heat, cook the ground pork, breaking it up with a wooden spoon. Once the pork is cooked through, transfer to a medium bowl, leaving about 1 tablespoon of fat in the pan (any additional fat can be discarded). Reduce the heat to medium low and add the chopped shallots to the hot fat. Fry the shallots, stirring often, until golden brown. Add the grated ginger and and stir to combine with the shallots. Next, carefully pour in the mirin. Allow it to cook for about one minute, or until it forms a syrupy glaze. Return the pork to the pan along with the lime juice and fish sauce. Stir well to combine and taste for seasoning. The fish sauce will act as the salt in this recipe. Allow the mixture to cook for just one minute more to be sure it is thoroughly heated.
Lastly, turn off the heat and add the diced pear and the cashews (you may reserve some for garnish, if desired). Divide the mixture between the lettuce cups and garnish with the scallions and remaining cashews. Serve with your favorite Asian chili sauce.
Lunch, Entrée, Dinner, Quick, Easy, New