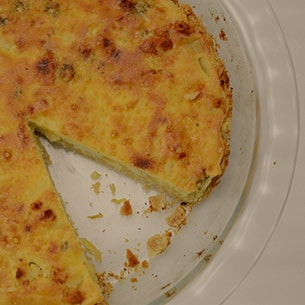 Fruit Quiche with Apples & Gorgonzola
Ingredients:
one premade crust
2 tablespoons butter, divided
1 cup diced apple
1/2 cup diced onion
salt and pepper
2 oz gorgonzola or bleu cheese
3 large eggs
1 cup cream
Salt and pepper
Instructions:
Preheat oven to 400 degrees.
Bring premade crust to room temperature. Unroll and place in 9″ pie plate or quiche pan. Prick crust a few times with a fork. Place in freezer for 15-30 minutes.
Heat one tablespoon butter in a small skillet over medium-low heat and add diced onions. Cook for 5 minutes or until onions start to turn translucent. Remove onions from pan and set aside.
Add remaining tablespoon of butter to skillet, add diced apples and cook on medium-low heat for another 5-7 minutes. Season with salt and pepper (use salt judiciously as the cheese contains salt). Remove from heat once the apple is soft and lightly browned.
Spread onions on premade crust, then add apple. Sprinkle cheese over the onion and apple.
Whisk eggs gently in a medium mixing bowl, then whisk in cream. Add salt and pepper, and pour over the apple, onion, and cheese.
Bake on lower rack of oven for 30-40 minutes. Remove when mostly firm and center jiggles only slightly.
Quichemas, Breakfast, Brunch, Easy, New