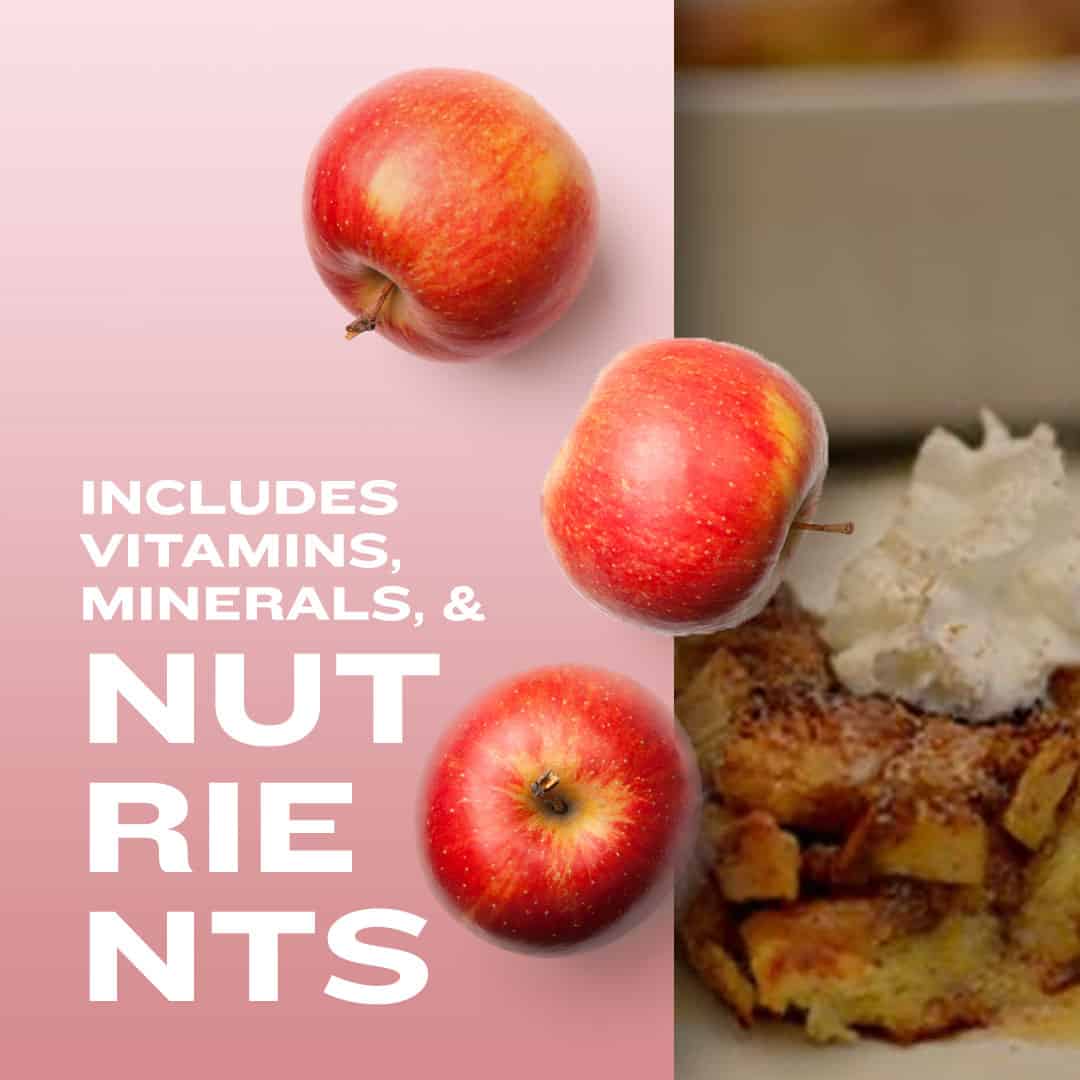 Ingredients:
2-3 pieces thick sliced bacon, optional
1 large loaf French bread
2 tablespoons salted butter
2 cups apples, peeled, cored, and diced
1 cup brown sugar, divided
2 teaspoons cinnamon, divided
1 teaspoon nutmeg, divided
1/2 cup good quality maple syrup, divided
1/2 teaspoon cloves
7 eggs
1 cup whipping cream
1 cup half and half
maple syrup and whipped cream, optional
Instructions:
**OPTIONAL** Cook 2-3 pieces of bacon. Cool, dice, and set aside.
Preheat oven to 350 degrees.
Melt butter in a medium skillet over medium high heat. Add diced apples and sauté for 2 minutes. Add 1/2 cup brown sugar, 1 teaspoon cinnamon, 1/2 teaspoon nutmeg, and 2 tablespoons maple syrup and continue to cook until apples begin to soften. Remove from heat and transfer to medium mixing bowl.
Spray a 9×13 baking dish with non-stick spray. Cube French bread and spread the bottom of dish. Using a slotted spoon, remove apples from any liquid that has collected in the bowl and distribute evenly on top of bread.
Add 7 eggs to mixing bowl and whisk gently. Whisk in whipping cream, half and half, cloves, vanilla and remaining cinnamon, nutmeg, and maple syrup. Pour the egg mixture evenly over the apple and bread. Top with diced bacon. Cover and refrigerate for at least 2 hours or overnight.
Remove dish from refrigerator about 30 minutes before baking. Bake uncovered at 350 for about 40 minutes or when a knife inserted in the center removes cleanly. Serve warm drizzled with maple syrup and a dollop of whipped cream.
Quichemas, Breakfast, Brunch, Easy, New