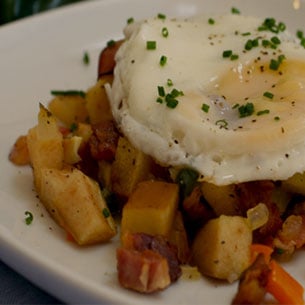 Apple, Chayote Squash & Sweet Potato Hash Recipe
Ingredients:
1 ½ tablespoon olive oil
1 chayote, peeled, pit removed and diced
3 medium sweet potatoes, peeled and diced
3 large apples, cored, unpeeled and diced (suggest Fuji, Gala or Golden Delicious)
6 slices of bacon, cut into small pieces
½ cup onion, finely chopped
1 poblano pepper, seeded and finely chopped
1 red bell pepper, seeded and finely chopped
½ tsp. salt
½ tsp. freshly ground black pepper
4 eggs
Optional garnish: chopped chives, cilantro or parsley
Instructions:
Preheat oven to 425° F.
Grease a large roasting pan with ½ a tablespoon of olive oil. Add the chayote and sweet potato into the pan and drizzle a tablespoon of olive oil over the vegetables. Stir well to coat with oil and season with salt and pepper. Roast uncovered for 30 minutes.
In a medium saute pan, cook bacon at medium high heat until crispy and golden brown. Using a slotted spoon remove cooked bacon from pan, carefully transfer grease into a heat proof bowl. Keep approximately one teaspoon of rendered bacon fat in the saute pan and return to medium heat. Add onions and peppers and cook for 5−7 minutes or until tender. Remove from heat to cool slightly.
Remove roasting pan from oven. Add in the apples, bacon and pepper−onion mixture and stir well. Return to oven and roast for an additional 15−20 minutes or until vegetables are tender and golden brown. Serve hash with poached or fried egg and garnish with chopped herbs if you wish. Serves 4.
Breakfast, Brunch, Easy, Gluten-Free