We need them everywhere, passionate and community driven Wholesome Heroes whose call to action is an innate part of who they are. Not every place is as lucky as Syracuse, NY to have someone to fill that need like Troy Gray. Flanked with family life, a full-time job, and a love for all things sports, Troy still finds a way to go above and beyond in his community through his many hours of volunteer service within the organization Rise Above Poverty.
THE BEGINNING
At its inception three years ago, Reggie Kelley – founder of Rise Above Poverty, read an article detailing the homeless rate in Syracuse City School District and saw an opportunity to create real change. Reggie created an organization focused on educating the community about the school district's poverty and homelessness statistics and providing some of the basic needs to ensure the youth attending Syracuse City schools would be prepared to receive an education regardless of economical status.
After realizing what an undertaking Rise Above Poverty would be, he informed his life-long friend Troy Gray knowing that Troy's passion for his childhood community and concern for the poverty-stricken students would be as great as his own. Troy, while already leading a youth ministry, hit the ground running and quickly became the Project Director within the organization.
THE WORK
Rise Above Poverty is relatively small with all 7 board members holding full-time jobs, as well as providing volunteer service hours for the organization. When asked why Rise Above Poverty is important to him, Troy said that poverty isn't a one-size-fits-all predicament in Syracuse, NY. He went on to explain that when people think of the word "homeless" they assume we're talking about people in shelters or on the street, and while that may be true on the surface, it's not the only case of need. More than 10% of Syracuse City School District students are homeless and that could mean that they simply do not have the same place to sleep from month to month, week to week, or even night to night – they don't have an address. When kids live in these types of fluid environments, their lives are in a constant state of flux without security and access to many of the basic needs like toiletries, socks and underwear so many of us take for granted. Troy said it best when he explained, "for you and I, it's like forgetting something important when packing for a trip, we know we can grab another one when we arrive, but for these students forgotten items are rarely replaced when they are left behind."
THE IMPACT OF RISE ABOVE
Students in homeless and at risk environments already face a host of challenges that impact their ability to learn and succeed. However, lack of basic necessities like hygiene products, undergarments, clothes, and coats can exacerbate an already difficult situation. It makes students not feel presentable at school, with many of them missing classes or skipping school entirely due to the fear of bullying or feeling less-than.
When asked why he chose to make a difference with Rise Above Poverty, Troy said the only way for kids affected by poverty to overcome their situation is through education. Education starts a process to learn and think differently. If they don't think they can do any better they won't. Education is the first step in overcoming that mindset.
Alongside his best friend, Reggie, Troy works hard to provide students in Syracuse with basic necessities like toiletries, basic under clothes, and cold weather gear through community donation drives. As project manager at Rise Above Poverty, Troy coordinates and works at all events and donation drives sorting and allocating donations, and often takes fresh ideas and creates new opportunities for outreach to create awareness and increase donations for distribution. He, and other board members, work directly with the schools in the district to identify students affected by poverty and coordinates with social workers and counselors for the students to receive items that they are in need of in a dignified and confidential manner.
THE LEGACY
Troy is always looking at ways to expand the program and get more people involved. In 2020, he is working on creating a summer reading program for Rise Above Poverty to improve student's reading and grades and give them a safe space to hang out when school is out.
Troy told Rainier that if he could tell the world one thing about his work it would be that "It's the awareness that creates the impact. We have to talk about the ways our communities are being negatively affected if we want to create real and lasting change." He went on to say "Although we cannot solve poverty completely, we can make it easier for kids to Rise Above with advoca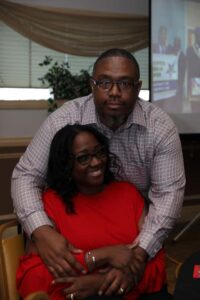 cy and community action."
Troy knows this well as he was raised by a single mother in the Syracuse district and attended Brighton Academy when it was Danforth Elementary. Although he didn't share the same worries of the students he helps, he understands the difficulty and he refuses to turn a blind eye. He and his wife of 27 years, Michelle, raised two daughters in the Liverpool area and pride themselves that their daughter's inherited both of their involvement with community: Jazlynn (a recent college graduate) and Trinity (a sophomore in college) both volunteer within Rise Above Poverty whenever possible. His advocacy and action for the students of Syracuse City School District is what makes Troy who he is, and it's what makes him a Wholesome Hero to us.
HOW CAN YOU HELP?
Residents in the Syracuse area are encouraged to help Rise Above Poverty in any way they are capable: creating awareness through conversation, sharing events, monetary donations, donations of necessities like toiletries, socks or underwear, or volunteering to work a donation drive. For those outside of the area, Rise Above Poverty has an Amazon Smile account that they can donate to whenever purchasing at smile.amazon.com
But if Syracuse isn't on your radar, never forget that they basic needs are the same everywhere…including right in your home community. Contact your local school, homeless shelter or community support organizations and ask how you can help. As Troy said, "it's awareness that creates impact." Simply asking how you can help starts a dialogue of where the need is greatest.