When Stephanie Ringer was asked to establish an employee wellness initiative as part of her Employee Benefits Coordinator role, she took the directive further than most people would, and has made a lasting impact in her workplace.
"It started with a walking program at lunch," explains Danielle Gilbertson, a coworker, "We have beautiful natural surroundings on the Yakima Greenway, so it's nice to encourage people to get away from the office during lunch, get outside, and be active together." But the walking program was just the beginning.
Stephanie also leads a monthly "Dump the Plump" challenge for employees looking to eat healthier and lose weight. After losing nearly 50 pounds herself, Stephanie is a wellness inspiration to those around her. She shares her story and is powerfully encouraging to her coworkers. "Since May 2017,' she relates, "I decided to be more active. It was hard at first with extra weight, but I've lost close to 50 pounds by changing my eating habits and working out. It isn't just about losing weight, it's about having the energy to do the things you love." She enjoys being active, and that energy has proved to be contagious throughout the Allan Bros. workplace.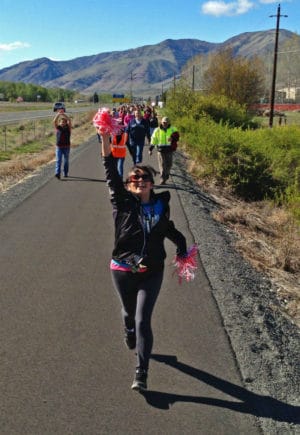 Stephanie is training for her first half marathon—the Yakima River Canyon Half Marathon, and has inspired more than 20 of her coworkers to do the same. "I was never a runner… the only time I ever thought I would run was if something was chasing me. But, I started small. Now it just feels better to be moving." And now nearly the whole office is moving—together.
As Stephanie shared her motivations for the half marathon, others signed up too. They share wellness and nutrition tips and train together. Over the summer, the office started an outdoor "boot camp" to begin getting into half-marathon shape. "It's kind of awkward at first, working out next to one of your coworkers. Stephanie brings people together and helps break down the barriers of awkwardness. It creates a supportive culture surrounding personal growth and relationships that go beyond the workplace, too." Danielle explains.
Building those connections outside the workplace has also created a wonderful culture during the workday. Together, the half-marathon team is achieving personal wellness goals that only months ago seemed unattainable, and work activities have become charged with that same energy. "I didn't even think about the cultural effects this would have when we started," Stephanie says, "It was just about a healthy lifestyle." Accomplishing goals as a team, and building comfort zones with a supportive, healthy group is a meter of striking success for any employee wellness program.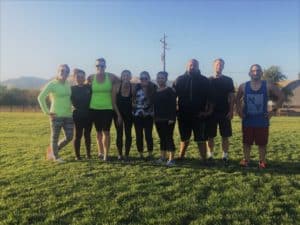 "Stephanie is really the connective tissue that holds our team together," says Danielle. They coordinate group training outside of work, and run together before work, over lunch hours, or during the evening.
What does Wholesome to the Core mean to you?
"It isn't just about being physically healthy," Stephanie explains, "but being mentally and emotionally healthy. We all have that negative voice in our head that makes us overthink things and fall into self-doubt. It's important to be conscious of that voice and get it to shut up! Don't be so hard on yourself—it isn't just about what's on the outside."
Do you have any advice for others looking to live a healthier lifestyle?
"The biggest challenge is not to get discouraged. You can still have cheese zombies, just don't make that a routine. You can plan your joy, just make sure you plan it well and don't go on joy overload!"
Look for Stephanie out on the Yakima Greenway, or at the finish line of the Yakima River Canyon Half Marathon in April!
Rainier Fruit is truly honored to call Stephanie Ringer a Wholesome Hero.