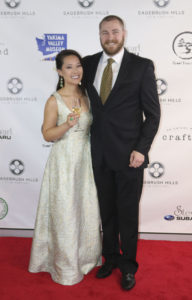 Rainier Fruit is proud to feature our very own Soo Choi as a Wholesome Hero! Soo is a hardworking, passionate and humble young woman who works on our sales team. In her spare time, she is implementing a new way for her community to come together and interact: The Sagebrush Hills Film Festival. Recently, the Yakima Herald's Women in Business Magazine featured Soo for her hard work and dedication to the Sagebrush Hills Film Festival.
BREAKING DOWN BARRIERS
Soo grew up in Yakima, Washington as the daughter of industrious immigrants. As a family, they experienced many cultural and communication barriers within their community. While Soo was studying at New York University, she discovered the beauty and power of film as a medium to overcome some of those frustrations. Then she had an idea – one that could transcend the cultural and language barriers that still existed back home in Yakima.
After graduating and returning to Washington, Soo set out to transform her community. Organizing the film festival is her way to bridge community gaps and bring different cultural and social groups together for conversation. Through the festival, film has become a way to create common ground within the community. "The mission," Soo explains, "is to build a stronger community by breaking down the barriers that are keeping us from understanding each other." To that end, Soo and her co-producer select films that ignite meaningful dialogue. The hope is that these conversations will have a positive and lasting impact on the community.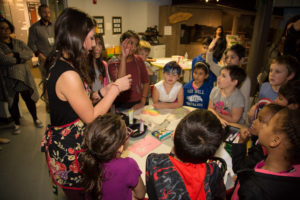 GROWING IMPACT
It's working. "All these families turned out with kids of all ages to just soak it in; they were so into it." Soo recalls. During a post-film activity, children and their parents were asked to list their personal fears on little paper stars representing symbols from the film. This simple concept triggered impactful conversation. "We had grandmas and dads talking to their kids about what they're afraid of. 'Dying. Losing my house. Losing my mom.' These are from kids! Real fears!" Soo was blown away by the time these families spent engaging with one another and discussing important—yet often difficult—subjects.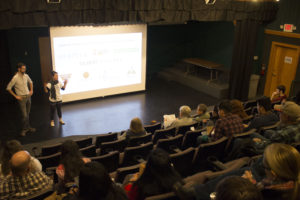 Since starting up the festival, Soo is surprised by the recognition she is receiving. She states: "I don't think that anything I'm doing is new or innovative, I just like to connect with people and see them connect with each other." Now in its third year, the festival recently screened 28 films in four venues. This year, it expanded to include entries to the first local high school short film competition. In addition, Soo and her co-produce have incorporated four additional spinoff events throughout the year. As it grows, the festival continues to draw people of all ages and all backgrounds together to watch, converse and learn.
A GREAT ASSET
Soo is an outstanding asset to our team at Rainier Fruit. We couldn't be more proud to see her recognized as a female leader in business and her community. Congrats, Soo! We are proud to have you as an employee and more importantly as a friend.
To read the article from the Yakima Herald Women in Business Magazine, click here.
Rainier Fruit is truly honored to call Soo Choi a Wholesome Hero.