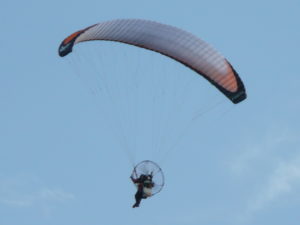 Sam can be found flying around the Zirkle Fruit facility in Selah, WA. Literally. Sam has recently taken up flying with his powered parachute and soars to heights of more than 5,000 feet! And that's not even the most amazing thing he does.
In addition to flying, Sam has recently become a Court Appointed Special Advocate (CASA) for children who are facing the possibility of separation from their parents.
Sam has worked at Zirkle Fruit for 18 years, and as the Quality Control Manager he is responsible for ensuring the quality of every apple that goes out the door. But the road to get to this point has been winding, and Sam's new role as a CASA hits home for him in a deeply personal way.
A WINDING PATH
As a young adult, Sam struggled with drug and alcohol addiction. He and his wife went through a messy divorce with two young children, and Sam gained custody of the kids. One day, while Sam was dropping off his children at daycare, an employee misheard something he said to his child, and set the wheels in motion to remove his children from his care. He was blindsided.
THE SYSTEM 
"I was totally out of my element." He explains, "Anyone who looked at me could see that I was struggling with substance abuse, but no one brought it up. No one recommended that I get the help that I needed. Instead, there was a microscopic focus on removing my children from my care." The system isn't designed to help people like Sam navigate through it. Everything from the language used in court proceedings to the people present at hearings made the process confusing for the average individual.
"Everyone used legalese, or court-speak, and all these acronyms—it felt like they were speaking a different language and leaving me out of the loop on purpose," he explains, "I felt like no one was there to help me—not even my own attorney." But these individuals underestimated Sam. He spent two entire days in the basement of the courthouse studying documents and educating himself on his rights, and the laws surrounding the actions of child protective services. "I was ready to stand up for myself and my kids," he says, "and I showed them that I wasn't going to give up my kids without a fight."
THE JOURNEY TO SOBRIETY
Sam showed up at the trial well-prepared, and well-versed in the legal proceedings and his rights as a father. He retained custody of his children. Still, his addiction was not addressed. "I needed help. That would have been a perfect moment for someone to intervene and push me to get the help that I needed." It wasn't until years later that Sam put in the work to get clean and rid himself of his addictions. He reformed his lifestyle, and now helps others who are on the journey to sobriety.
HELPING OTHERS
One day, after getting sober, Sam came across an ad in the local newspaper for the CASA training program. He vowed that one day, "when life was a little less crazy," he would become a CASA and help others navigate the situation that had been so troubling for him years earlier. The thing is, life never really gets "less crazy" – especially when you work in the produce industry. Between apple harvest, packing pears, cherry season, and life outside of work, Sam had a lot on his plate. "It was a few years ago when I saw that ad, and I actually cut it out and kept it. I kept looking at it thinking someday, but I realized that I needed to make the time and make it happen."

CASA
Sam signed up for the CASA training program, and spent 32 hours in classes and court observation, learning the ins and outs of legal proceedings and child protective services. His role is to be an advocate dedicated to representing the child's (or children's) best interest. When working on a case, a CASA will meet with the child or children involved to learn their story. Sometimes it may be in the child's best interest to be separated from their parents, especially in cases of abuse. Sam is an unbiased advocate, present only to help the child. "We'll drop in at their school to talk to them," he explains, "so we can interact with them without any outside pressures or influences."
CASAs work with children for the entire duration of a case, which can be anywhere from 15 to 18 months. Cases can involve all the children in a family, so families with multiple children can involve a much more significant time investment for a CASA. Children over the age of 12 are given an attorney to represent their interests, so Sam will only be working with younger children—in some cases even infants. "It can make a big difference," Sam remarks, "when there is a really tough case, or a deadlock between attorneys, the judge will often rely on the CASA to present the child's point of view and that can be the tiebreaker."
Sam has just been sworn in as a CASA and looks forward to beginning his first case. Always looking ahead, and identifying new ways to help people along their own winding paths, Sam is a true inspiration to all those around him.
To learn more about the CASA program, please visit http://www.casaforchildren.org.
Rainier Fruit is truly honored to call Sam Gaenz a Wholesome Hero.