Mim Michelove is so down to earth, it's easy to forget that you're talking to someone who is literally changing the world.
Mim is the visionary behind Farm Lab, an innovative outdoor learning campus for students in the Encinitas, CA school district. The path that got her to this point, however, has had some twists and turns. Her multifaceted background includes time as a celebrity photographer, professional welder, and a Mom.
Skills Come Together
To some, that experience might seem disparate, but for Mim it all came together to promote environmental and wellness education. "There needed to be a campaign for making healthy choices when it comes to the community, the environment, and our diets." She says, "That campaign is often going to be visual, so my photography experience has been really helpful. We can use images to show people how to connect things that are otherwise hard to articulate."
As a professional welder, Mim became accustomed to thinking about things from an engineering and structural perspective. That's come in handy as she meets with architects and engineers to create garden structures and school buildings at Farm Lab. On a more elemental level, that experience aided in her plans for the structure of the organization itself.
As a mother, Mim's passion for the environment coincided with her passion for healthy food and making sure that children all have equal opportunities to be healthy. She started working in school gardens, and found that they're a great opportunity for learning on a number of different levels. They meet the needs of different learning styles, different paces, allow students to get out of the classroom to learn, and help them to feel valued. While working with school gardens, Mim also discovered that she was good at communicating the beneficial relationship between outdoor programming, healthy food, and academic success in order to help schools get grants!
Making Progress
"When I started at Farm Lab," she explains "I began to realize how all my skills and experiences had come together to make the community better and stronger." At the outset of Mim's Farm Lab journey, the school district hired her as an environmental consultant. By bringing great ideas to the table, Mim was able to garner support for more initiatives, and began to spearhead new projects. The green initiatives actually ended up saving the district over $800,000 per year in their general budget.
Farm Lab had existed as a pilot program, but it wasn't moving forward. Mim took a vacant corner of unused land whose primary function was water runoff and created a 10-acre dynamic agricultural experience for the 5,400+ students in the school district. "There really hadn't been any development on the site and the students weren't very involved in the program," she remarks, "but we were able to transform it from a large dirt patch and a couple of brown portable buildings into the active, beautiful farm and learning campus that it is today."
Farm Lab is active and beautiful, not to mention highly successful and efficient. The systems Mim put in place ensure that organic food grown at the farm ends up in school lunch every day, either on the daily salad bar at all district schools, or incorporated into menu items like the pizza and marinara sauce.
Special Moments
The big moments come on a daily basis at Farm Lab: sometimes multiple times a day. As Mim thinks back on the progress, and how far the program has come, she recalls some big steps. "Getting veggies from the farm into the school lunch program was amazing. Just seeing how excited kids get when they see the items they're growing at the farm appear on their plates—it makes it all worth it." Mim also made it possible for Farm Lab to become the first certified organic school farm to lunchroom program in the country. "I cry when I think about it. I literally go to work sometimes and start to cry," she says, "It's so embarrassing, but it's thrilling to see the whole thing transform from an idea into a reality."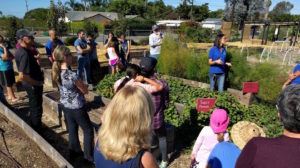 The Next Steps
"Farm Lab is a jewel in the crown of the whole San Diego area, maybe even the whole county," Mim relates, "The next step is to expand it!" Plans are in the works for the program to expand regionally, then statewide, and eventually nationally. Mim not only brought Farm Lab to fruition, she also co-founded a non-profit, Healthy Day Partners, and has started a number of school gardens and farms through that endeavor.
While building up Farm Lab, Mim let Healthy Day Partners go quiet so she could focus her energy on one organization. Now, with a solid case study and lots of experience for her proof of concept, Mim looks forward to refocusing her energy on Healthy Day Partners. "I built the foundation for Farm Lab," she says, "and now I'm hoping someone else steps in to take it up another level."
Healthy Day Partners
Healthy Day Partners also focuses on Mim's driving passion—to make healthy food available to all. She has started two community food forests, and a public fruit orchard through the non-profit. "The latest one is wide open and accessible to the public. We have 50-60 varieties of fruit available for people to come in and harvest as they walk by," Mim explains "We planted a lot of fruit that doesn't demand a great deal of water, like olive, persimmon, fig, pear, apple, pomegranate, and more. The orchard is young now, but over the years it's going to be phenomenal to walk through it and experience its bounty. It is a living representation of equal access to healthy food for all."
Challenges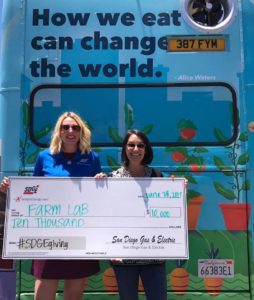 Mim's work with Farm Lab has been an overwhelming success, but it hasn't come without challenges. From a program standpoint, sustainability is the biggest consistent challenge. She also recognizes that change is difficult. "I like change," she says, "and I want to help people set higher standards, and help them through the change." Her innovative approach has also been both a gift and a challenge. Everyone wants children to have the best opportunities, but navigating through an established bureaucracy can be tough when you're creating your own roadmap as you go.
Mim has been a trailblazer and a visionary, bringing healthy opportunities and a healthy connection with food and the environment to students in her school district and beyond. We can't wait to see what she does next through Healthy Day Partners.
To keep up with the journey, follow Healthy Day Partners on social media!
https://www.facebook.com/HDPinfo/
https://www.instagram.com/healthydaypartners/
Rainier Fruit, and our partners at the Whole Kids Foundation, are truly honored to call Mim Michelove a Wholesome Hero.