In 2014, 2 New York police officers were nearly killed while responding to a 14th floor fire on Coney Island. When investigators identified the source of the fire, a 16-year old African American boy who lived in the building, the teen admitted to setting a mattress on fire because "he was bored." This, Lou Harris says, is precisely why he set up an East Coast chapter of the Black Surfing Association. "Kids need to be active, to have something to do," he says, "or they'll find their way into trouble."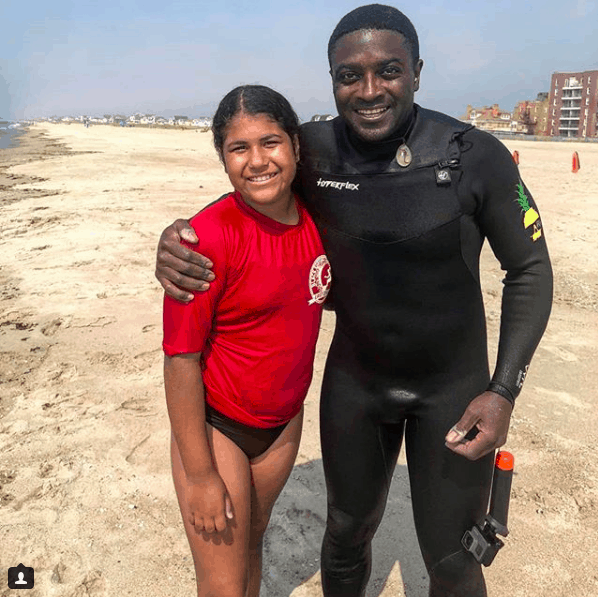 The Black Surfing Association
The Black Surfing Association started in California and is dedicated to creating a welcoming community and a sense of belonging within a culture that hasn't always been accepting of African Americans. "There aren't that many black surfers out there," Lou explains, "so I got connected to the organization and asked to start up a chapter here in New York." Lou's chapter of the Black Surfing Association is based in Rockaway and is focused on teaching surfing, swimming, and water safety skills to kids from all backgrounds.
Coming to Rockaway
"It's a blue collar area—a lot of the people in this neighborhood can't afford expensive lessons for their kids," Lou remarks, "So I give the lessons for free." Neighborhood parents couldn't be happier. Their kids are off the couch and away from screens during the summer, learning new skills and staying active. "When I was a kid and the school year ended," he says, "my parents would tell me I had to get a job or go to camp. There was no way I was going to sit around in their house and rack up the energy bills, or get into trouble." Going to camp isn't cheap, which is what makes the free surf lessons so appealing.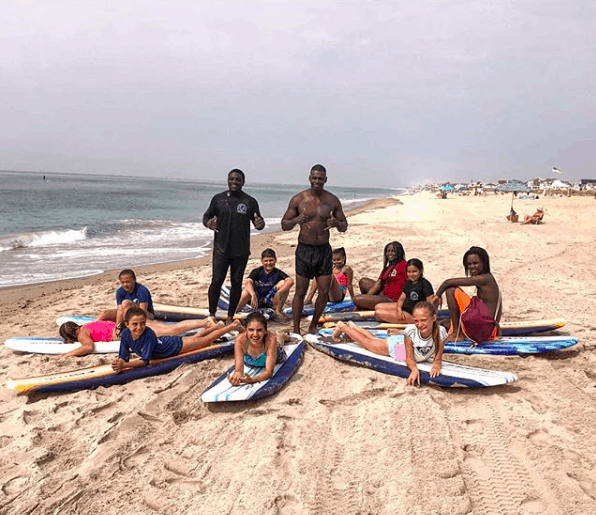 "It's all about keeping kids active!" he explains. When Lou talks about the non-profit, and his work with kids in the area, his excitement is infectious. As a self-proclaimed "big kid," Lou is the perfect combination of role model, teacher, and mentor for young surfers of all backgrounds. "The kids pick it up in like five minutes!" Lou exclaims. They must have a good teacher.
Making a Difference
Even though surfing is a lot of fun, there's also a serious side to Lou's work with the kids. Many of the kids living in the Rockaway area don't grow up swimming, and don't have a lot of familiarity with the water. The water safety skills that Lou imparts on his troupe of young surfers can actually save lives. "The other day one of the young girls told me that she showed her friend what riptide looks like, and explained how it can affect you in the water. That's the best scenario, when you know they're learning and they're sharing the information with their friends. That's what can save kids' lives."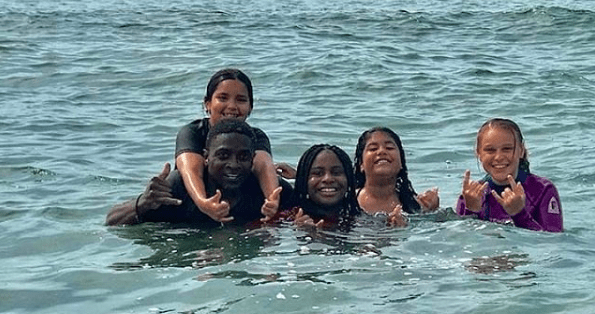 The importance of the lessons hits home for Lou. "When I first moved out here, I saw all these helicopters and asked why there were so many out here. Someone told me, they're probably looking for drowned kids." In fact, African American children drown at 3 times the rate of white children. Getting kids familiar with the water, teaching them to swim, and teaching them important skills for water safety are helping change that statistic. Moreover, encouraging minority children to swim can help break the cycles that have historically kept them (or their parents) away from the water.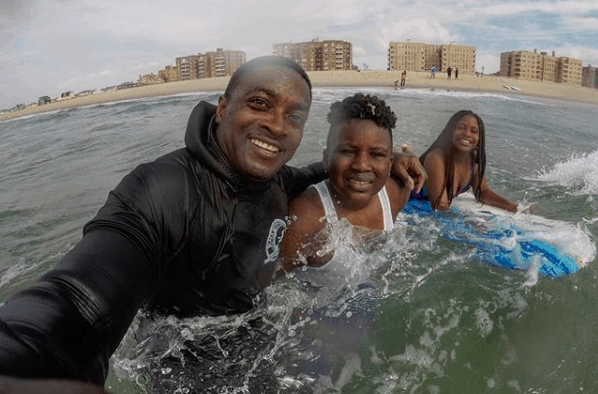 A Bright Future
Three years ago, Lou pitched his new non-profit to a community group called Rock Soup that funds ideas that improve the area. Lou won enough money to get t-shirts for the kids and keep the organization going strong. Recently, he launched a GoFundMe campaign to support the endeavor (click to donate!), and has been gaining notoriety in New York and even abroad for his important work with the Rockaway youth.
Lou has been skateboarding since 1991, and now surfs year-round in Rockaway (that's right, you can see him riding the waves in the winter). To speak with Lou is to experience firsthand the passion that he has for his community, kids, and his active lifestyle.
Rainier Fruit is truly honored to recognize Lou Harris as a Wholesome Hero.
To stay in the loop with the Black Surfing Association in Rockaway, follow @Black_Surfing_Rockaway on Instagram, or connect with the ongoing GoFundMe campaign by supporting Lou's work.