Keichun Graves has always had a heart to serve. While attending college in Atlanta, she, like many college students, was unable to travel home to spend Thanksgiving with her family. But instead of getting down about it, Keichun headed to Turner Field, where a Thanksgiving event was taking place for the homeless.
The positive energy was intoxicating—there were DJs, energetic volunteers, and a wide variety of services offered to the homeless community. The event encompassed everything from haircuts and clothing to hygiene kits and showers, and even had a white-glove Thanksgiving dinner. Inspired to take action, Keichun noticed that many people were missing some basic necessities—like socks.
It isn't a coincidence that Keichun is an entrepreneur. Where others might have seen a problem, she saw an opportunity. She headed to a local flea market and purchased $100 worth of socks, then drove around until she found people that needed them. That was the beginning of a project that has now become her passion: Socks4Souls.
Her problem-solving mindset has served her in her career and after college, brought her to Los Angeles. The distinctions between the treatment of the homeless population in Atlanta and Los Angeles were heartbreaking. "In Atlanta, there were enough beds. There were shelters and assistance from the community. In L.A., the support systems that exist are just completely inadequate for the size of the population," Keichun observes.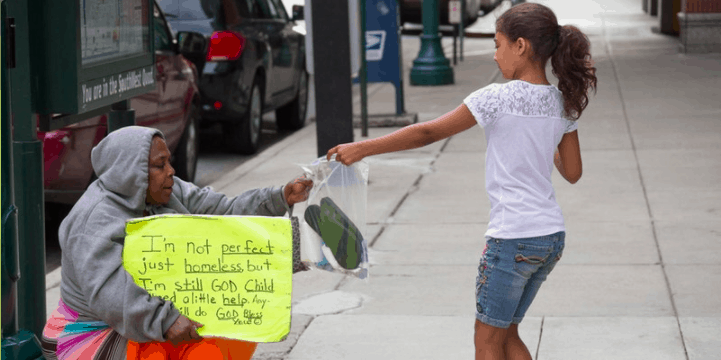 "What people don't realize," she expresses, "is that so many Americans are just a blink away from homelessness." People get sick, get divorced, and get laid off. One change in your life can cause a chain reaction that puts you on the streets. In Los Angeles, anywhere from 8,000 to 11,000 homeless live in the Skid Row area – one of the largest stable homeless populations in the country. Keichun works with Socks4Souls volunteers to distribute more than just socks now—coats, blankets, and hygiene kits are gathered and distributed on Skid Row. However, the true mission of Socks4Souls extends even further. "When we're passing them out, we're having conversations with people," she says, "we smile, we make eye contact. We show them that we see them and we care. " Even in the darkest of circumstances, she relates that the people she interacts with have moments of pure joy.
"There will never be enough kits," Keichun explains, "so the conversations are what's most important. We can all feed the soul of one person every day."
When we asked Keichun what "Wholesome to the Core" means for her, she responded passionately, "Having a pure heart and relentlessly pursuing great intentions to serve. Never wavering in the desire to give." In spite of the profound impact she is making, Keichun doesn't view herself as a hero and instead focuses on the fact that each ordinary person has the ability to help in an extraordinary way.
How can you get involved?
For the 9th year in a row, Socks4Souls volunteers will be passing out supplies on Skid Row this Thanksgiving (11/23/17). For details, visit the event page.
Keichun has also spearheaded a Christmas in July initiative to support the homeless population living on Skid Row. During the holidays, people are focused on giving back and many organizations raise money and get involved. In other months, that's not always the case. In July, when support is most needed, Keichun collects supplies and organizes volunteers to safely walk through Skid Row, connecting with people and distributing kits.
Consider supporting Socks4Souls by giving or volunteering, or get involved locally. What can you do in your own community? Keichun recommends researching local organizations that work with the homeless, and seeking volunteer opportunities. Assembling small hygiene kits and keeping them in your car to distribute to those in need can be an easy way to lend a hand. The most important part, however, is looking people in the eye and letting them know that you care.
We thank Keichun Graves for all the great work she is doing. You can stay in the loop with her efforts by following her on instagram @keichungraves.