What do you get when you combine nature, adventure, imagination, healthy living, and children's television? We imagine it would look something like Mr. Greenheart's Treehouse—a TV show created by Jefe, who stars as Mr. Greenheart. Mr. Greenheart is more than just a wholesome role model for children, he's essentially an embodiment of childlike wonder, compassion for others, and a spirit of adventure. Really, Jefe says, "He's an amplified version of me."
So who is Jefe Greenheart?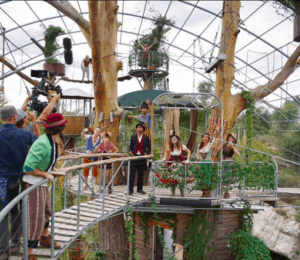 Jefe learned the ins and outs of film production at a young age, and began working in primetime television right out of college. When he met his wife, Kelly, he left his job so the two could travel through South America together making documentary films for non-profits. Now, Jefe and Kelly have their own entertainment business, CIRCUS PICNIC, that specializes in creating experiences (videos, live performances, events, and more).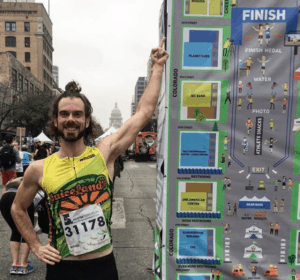 Jefe and Kelly are committed to living healthy, active lifestyles, and have even won triathlons competing as plant-based (vegetarian) athletes. Because healthy living is so important to them, they want to inspire kids to get outside, get active, explore nature and find adventure.
That's where Mr. Greenheart's Treehouse comes in.
Jefe and Kelly don't own a TV. They haven't owned a TV in 10 years. Maybe that's why their approach to entertainment feels so fresh. After hearing from friends and family that much of the programming for kids contributes to device addiction, inactivity, and even decreased attention span, Jefe and Kelly set out to do something different—to "plant their own path" as Kelly puts it.
The Greenhearts want to make growing up easier for kids, and their show is designed to be a guide for growing up that is wholesome, nutritious, and educational. "Mr. Greenheart isn't trying to suck kids into television," Kelly explains, "but instead to give them a curiosity about the world around them and even directly ask them to turn off their device and go out into nature to do something imaginative like they see him doing. Essentially, I suppose we want Mr. Greenheart to be like Mr. Rogers reimagined for a modern era."
The inspiration
Jefe is basically a big kid, and he wants to show them that it's possible to follow their dreams. "I made me own little treehouse when I was a kid, " he relates, "it was just propped up against a telephone service box and a fence, but it was a platform for adventure for my sister and I. I guess that's the root of everything I'm doing now. That was the basis of the connection I have with nature and my sense of imagination." Mr. Greenheart is a character, but it's also very much Jefe himself (Greenheart is his real last name). He embodies Jefe's passions, curiosity, sense of adventure, nonviolent spirit, focus on education, and healthy lifestyle.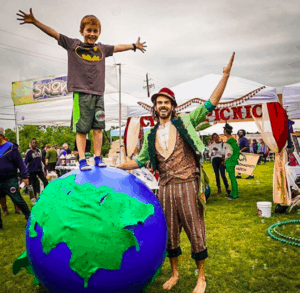 Much of the show comes from actual conversations that Jefe has had with his godson, Forrest. "Seeing the world through a child's eyes allows our true selves to come out—we're more ourselves when we're playing."
Oh, and Mr. Greenheart also rides a bicycle that powers a blender for smoothies. He juggles fruits and veggies before tossing them into the bike-powered blender. It doesn't get more wholesome than that.
What does Wholesome to the Core mean to you?
"Embodying your values and making more room for goodness," he says thoughtfully, "Years ago I made the decision to enjoy an alcohol-free lifestyle, to be fully vital, connected, and present. That's one way that I chose to make more room for goodness, and fully embodying my heart's passion to my core."
Mr. Greenheart's Treehouse is currently working on distribution and getting sponsors and underwriters for the show on the local Austin PBS affiliate. To learn more about the show, visit https://www.mistergreenheart.com/ or follow Mr. Greenheart on instagram at https://www.instagram.com/mr.greenheart/.
Rainier Fruit is truly honored to call Jefe Greenheart a Wholesome Hero.