Jane Rice is the kitchen manager at Taylor Elementary School in Foxborough, MA. She loves nature, and loves being outside. An avid gardener in her free time, when the opportunity came to tend a garden at work, Jane stepped up and now manages the tower gardens for Foxborough Schools.
Just as she does with the students, Jane devotes her time, love, and energy to the plants she grows for the children's lunches. "She's really been a cheerleader for the program, and has worked with other schools and convinced them to try tower gardens," explains foodservice director Janice Watt.
What are tower gardens?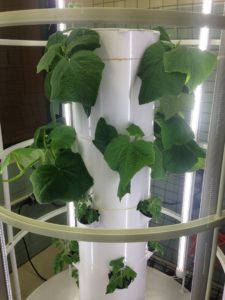 Tower gardens are hydroponic vertical gardens. At Taylor and two other schools in the district, tower gardens grow tender, delicious lettuce, cucumbers, and tomatoes for salads at lunchtime. Right now, there's a major push for "farm to school" produce and increasing fresh vegetables at schools. But in the northeast, it's tough for schools to get fresh, local produce year-round.
Initially, Foxborough Schools wanted an outdoor garden and a greenhouse to supply fresh veggies. After looking into the feasibility, they found it wasn't going to be the best approach. That's when they began to research tower gardens, and a local hydroponic store helped find the optimal solution. Allison Johnson, the former foodservice director, was able to secure grants from Whole Foods and other organizations to fund the tower gardens.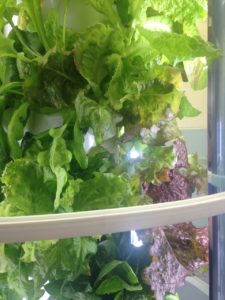 Garden Maintenance
Once the towers were installed, someone needed to step up to the plate and take charge of the upkeep. Jane explains the process very simply although she humbly downplays her own impact on the project. "I plant the seeds and put them in the tower, then feed it once a week. There are no weeds, no bugs. It's very easy!" Once things are growing, Jane monitors water levels, refills what is essentially a fountain in the center of the tower, and mists the cucumbers to maintain humidity levels.
Jane has always loved gardening and has a veritable green thumb. As a child, her father always had a garden and the children got to pick what they wanted to grow. "Incidentally, I liked to grow gourds. I just loved that you never knew what the outcome was going to be." Now, Jane says her favorites are cucumbers and tomatoes. Jane is hearing impaired, and a very visual person. The tower gardens are beautiful, and watching things grow and develop is a visually stimulating and rewarding process.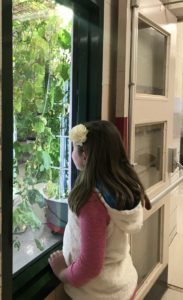 The best part of the gardens?
There's a window looking in on them so students can watch things grow. The process amazes them. Jane gets to see their faces light up as they peer in to see how the lettuce, cucumbers, and tomatoes are progressing from tiny sprigs to the food they're enjoying at lunchtime.
"Jane brings such enthusiasm to the job, and spreads that to kids. She's also a Girl Scout leader and has been very motivating for the troops—she's inspired by children and there's never a dull moment when Jane is involved," says Janice Watt, "I'm so impressed with her commitment to the program and to students. School nutrition programs often get a bad wrap, but Jane is changing that story and proving that programs like ours are attainable for other schools. She's a tremendous inspiration."
Programs like this are totally affordable; schools just need a champion like Jane.
What does Wholesome to the Core mean to you?
For Jane, it's never settling—going above and beyond to give back and pay it forward. This has always been part of her life, and now she's sharing that with the children in Foxborough.
Rainier Fruit is truly honored to call Jane Rice a Wholesome Hero.