Guillermo Gonzalez wasn't planning to become a teacher. He started his career in law enforcement, but after seeing the work that his sister was doing as a teacher, he took a chance. He interviewed at the high school he had attended, and was hired on the spot. 23 years later, he fully understands the impact that a single opportunity can have.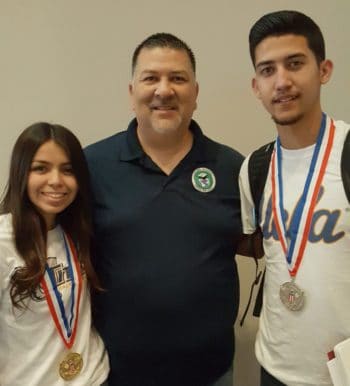 Seizing Opportunities
Now, Guillermo is dedicated to helping students take advantage of opportunities and see new ways that the future can open up for them. First as a special education teacher, then as a health teacher, and now as a math teacher, Guillermo works to convince his students that they can continue their education in college. "Most of these students are first generation college students," he explains, "and in some cases they don't see college as a realistic option for themselves."
Guillermo wants to change that. Over the past 6 years he formed partnerships with universities in the area, giving high school students a taste of the college experience. Guillermo's students can participate in summer college programs at little to no cost: taking classes and getting accustomed to college life. "It's a lot of work to find the programs and make the connections, but it's worth it." Guillermo says. Having experience on campus makes all the difference in the world when it comes to preparing for college. "Going to college can be a bit of a culture shock," he explains, "and students will be more successful if they get to know the atmosphere, experience the diversity, and get used to being away from home."
Summer College Programs
Participating in the summer college programs also connects students with valuable scholarship opportunities. Many students, and their parents, credit Guillermo as the main source of inspiration and encouragement in their choice to pursue a higher education.
Guillermo also volunteers his time outside of school to help students through the college application process, offering support and firsthand experience that first generation college students might not find at home. "For me," Guillermo relates, "the most rewarding part of being a teacher is seeing a student that knows they are going to college."

Getting Involved
Helping with college preparation is just one of the many ways that Guillermo makes a positive impact on his students and in his community. He also coached softball, volleyball, tennis and basketball for years before leaving the formal role of coach to spend more time with his three young children. He still gets involved and helps the teams out from time to time, and spends time volunteering with the mariachi program at Garfield High School. "The kids get really into it," he says, "and I get involved because I have a hard time saying no when they're excited."
What does "Wholesome to the Core" mean to you?"
"Wholesome to the Core is about being true to yourself, your roots, and your commitments," Guillermo says, "I love what I do—I just want to find ways to help our students reach their potential. "
Rainier Fruit is truly honored to call Guillermo Gonzalez a Wholesome Hero.