For Erin Levy, the best part of being a School Resource Officer (SRO) is developing relationships with the kids at her middle school and helping them through any challenges they may be facing. After 19 years as a police officer in Yakima, Washington, she's become familiar with the fear that many people attach to law enforcement, and she wants to help paint a different picture. "A lot of kids that I work with grow up thinking of police officers as scary figures. If they're acting up or getting in trouble, parents will threaten to call the police—but there's so much more that police officers do in the community." She explains.

Going Above and Beyond
But Erin doesn't stop there. Going above and beyond the call of duty, for the past three years Erin has chosen families in need from the middle school where she works, and coordinated with the police department to provide food, presents, and even a tree during the holiday season. The department provides funds for this outreach, but Erin also dips into her own pocket to give each family a special holiday season. Reaching out to establish these connections with families reinforces the positive image that Erin helps create for the middle school students. "It makes a difference with the parents too," Erin remarks, "one of the mothers that we provided for at Christmas reaches out to me pretty regularly now—anytime she has concerns about something happening at school. That probably wouldn't have happened before."
Background
One might say public service is in Erin's blood. Her father worked for the FBI, and she has one brother who is in law enforcement and another who is a firefighter. Even with that pedigree, Erin didn't immediately rush into law enforcement. "She's always been adamant about fitness, and she had a soccer scholarship in college," explains her husband, Brett, "at first she started out as a program director/aerobics instructor at the local Y but it wasn't a good fit. She applied to be a police officer and got the job right away. Now she's been an officer for nearly 20 years."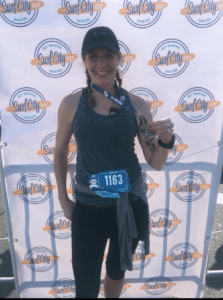 Special Olympics & Marathons
As a School Resource Officer, Erin has found her niche. Better yet, the job has only accentuated her passion for physical fitness. Every year, as part of the Special Olympics torch run, Erin runs a race from Lewiston, Idaho to Tacoma, Washington. "She's been involved with the Special Olympics since before I even met her," recalls Brett, "and she only took a couple of years off when she was pregnant with her second child Cooper." Most recently, Erin ran a marathon in Huntington Beach, California. Not only did she finish in fifth place for her age group, she also accomplished her goal by qualifying for the Boston Marathon next April.
"I'm so impressed with her drive," Brett says, "She always stays positive and has so much energy to get things done. She works, she exercises, she takes care of our family. She's always on the go doing things for other people."

Wholesome to the Core
"For me, law enforcement has always been a positive thing." She says, "Growing up, my dad helped instill the spirit of service in me. Especially when you work with kids you have a chance to make a positive impact. Sometimes when I finally get through to a student, they'll come to me to talk on a more friendly level. That's a big win. The more we can do to facilitate conversation and personal interaction, the better. Middle school can be a tough time. I initially chose to be placed in the middle school because my daughter was in middle school at the time, and I was familiar with that age group, but I've stayed because I know I can make a difference here."
Rainier Fruit is truly honored to call Erin Levy a Wholesome Hero.