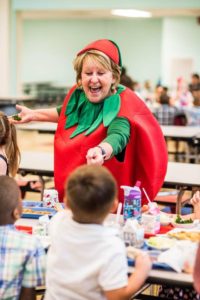 Donna Loden possesses a joyful energy and an infectious excitement that radiates to those around her. As a retired teacher, one can only imagine her in the classroom, sparking curiosity and a passion for learning among her students. Now, as the founder of Growing Healthy Waves in Tupelo, Mississippi, she is sharing her passion for building a healthy community and creating a movement along the way.
A LIFELONG TEACHER
When Donna taught fifth grade, something happened that stuck with her. Walking back from the cafeteria after lunch, one of the little boys in her class dropped some food that he had put in his pocket. The other students looked on, mouths agape. "Taking food out of the cafeteria was a big no-no," Donna explains, "but I just scooped it up, put it back in his pocket, and told him we'd talk about it later." When they did talk about it, Donna learned that the boy was trying to do what he could as a 10-year-old to help his family put food on the table.
Years later, Donna made the tough decision to retire in order to care for her mother. Around the same time, the local Health Care Foundation opened up HealthWorks!, a children's health education center and asked her to be involved. While she was primarily focused on being a caregiver for her mother, she started working on a part-time basis and began merging her two passions – better health and education for children.
FOOD CORPS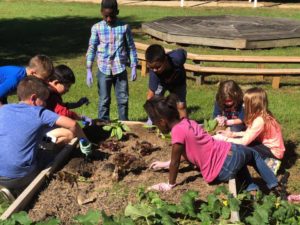 While working at the children's health education center, Donna learned that a neighboring town, Oxford, was registered as a FoodCorps service site. After observing how the organization works to connect kids to healthy food in school, Donna knew that Tupelo needed to become a service site.
"I started to lobby for it, with phone calls, emails, and more" Donna relates. Tupelo is the birthplace of Elvis Presley, and each June the city plays host to Elvis tribute artists. The streets downtown are lined with steel guitars painted by schoolchildren that lead to the famous birthplace."I started sending them pictures, saying 'Elvis is in Tupelo, FoodCorps needs to be in Tupelo!' and eventually I guess I wore them down!" She laughs. FoodCorps representatives came to the city and fell in love.
With FoodCorps on board, Growing Healthy Waves was born. FoodCorps service members are placed in yearlong programs with a service site, and they are truly the boots on the ground. Donna focuses on grant writing and building partnerships, and used her connections at area schools to get buy-in for the program from the central office of the school district.
WHY NUTRITION?
From her teaching experience, Donna knows that better nutrition improves learning outcomes. Additionally, Mississippi is consistently one of the most obese states in the country – a distinction that Donna hopes to shed. "When I was working with HealthWorks!, we had children come in who were already overweight in 2nd grade." She says, "It would affect their mobility." As a member of the mayor's Healthy Tupelo Task Force, she had been part of initiatives focused on exercise and movement but noticed that the nutrition side of things was lacking. "If kids are getting 2/3 of their calories at school," she remarks, "we should make sure those are really good calories!"
BRIDGING THE GAP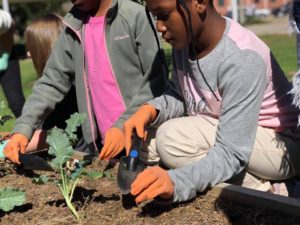 One component of the nutrition problem that Donna identified was a disconnect between food and food sources. "Kids literally didn't understand a connection between planting seeds in soil, sunlight, and the foods they were eating," Donna states. To help them make that connection, she secured funding for a greenhouse where kids have STEM classes and plant seeds. She also trained teachers on ways to incorporate state-mandated education standards into an exciting outdoor setting.
"They've planted hundreds of plants and can take them home to grow fresh food there," she said. "Seeing something that they've planted grow into a vegetable makes them more interested in eating it. There's a real sense of wonder that comes out of helping something grow."
EXPANDING PALATES
As children make the connection between produce and the plants they grow in the greenhouse, they're also expanding their exposure to food. "At first, we had some kids trying new things and saying 'that's nasty.' We don't shame them, we just want them to try things." Donna recalls, "but then after we've worked with the kids for a little while, they start getting more and more excited to try new foods. They're always asking 'what are we going to try today?'"
Through a donation from the Whole Kids Foundation, Donna had two salad bars installed in elementary schools, allowing kids to see the veggies they're growing in action. In addition to the greenhouse produce, the school nutrition director has done a wonderful job sourcing local produce from area farms, giving kids the opportunity to taste fresh, nutritious peppers, tomatoes, kale, sweet potatoes, turnips, and more.
Donna also uses her wild creativity to encourage kids to try new things. Through a delightful "fruitmon" and "veggiemon" program that capitalizes on the popularity of Pokemón, students that participate in taste tests "capture" specific fruitmons and veggiemons and are rewarded with cards similar to Pokemón cards. Donna also embraces her alter ego "The Tomato Lady" and dons a tomato costume while encouraging kids to try things. "Everyone should have the opportunity to walk into a cafeteria full of kids in a tomato costume." She says, "They squeeze me like a ketchup bottle!"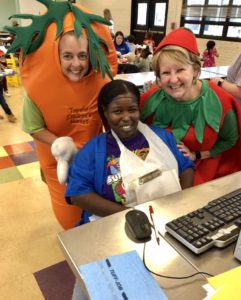 THE TUPELO SPIRIT
"Not that we don't still have our struggles, but Tupelo has come a long way," Donna says, and it's clear just how much she loves her city. "We have something we call the Tupelo Spirit. Four years ago, an EF-3 tornado swept through Tupelo incurring quite a bit of damage. Thousands of people showed up to help repair homes, get people back in their homes, fix the damaged elementary school, remove debris, staff donation drop-offs, and adopt school children who were displaced by the storm. They provided anything that the kids needed – from socks and shoes to school supplies."
This sense of community coming together to accomplish a common goal is at the heart of Donna's work with Growing Healthy Waves. "I'll be the first to tell anyone," she remarks, "I'm not a great gardener. I'm not a great cook. But I'm good at bringing people together to make a difference. We all use the talents that we have!" The way that Donna has built connections to support healthy kids is truly inspirational. She is a volunteer, and is not paid for any of her efforts, but works tirelessly to spread the message throughout her community and make space for others to get involved, whatever their talents may be.
She works with local farmers, local chefs, area businesses, foundations, state and local universities, government organizations, and more. In doing so, she's transformed her project into a community legacy with deep roots in all aspects of life.
SPECIAL MOMENTS
While Donna recognizes that the little moments (kids and parents touching worms for the first time, students going wild over crazy looking root vegetables, etc.) mean just as much as the big achievements, there's one day that really stands out. Three years ago, a school in the district was chosen as a spotlight school for Mississippi's Farm to School Week. A teacher had written a grant for a school garden and needed help getting the beds planted.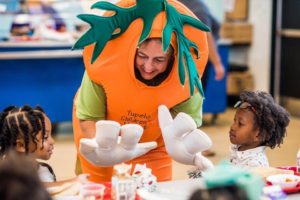 With Donna's support, the community rallied. The local baseball team came to help, farmers came to the school to teach about fresh foods, the children sang a song, community officials were present, and the program received seed funding from Toyota through a partnership with a nearby manufacturing plant. It was a beautiful day, and a beautiful display of what can happen when people come together with a common goal, unified in their shared excitement.
"They say it takes a village to raise a child," she says, "but I say it takes a farm!"
We can't wait to see how Donna's passion continues to shape her community. To stay in the loop with Growing Healthy Waves, follow them on social media.
https://www.facebook.com/GrowingHealthyWaves/
https://www.instagram.com/growinghealthywaves/?hl=en
Rainier Fruit, along with our partners at the Whole Kids Foundation, are truly honored to call Donna Loden a Wholesome Hero.