You know that feeling you get when you see someone who needs help? Someone who is living on the streets? Many of us experience a deep urge to help in some way, but aren't sure what to do. For Darrie Ganzhorn, Executive Director of the Homeless Garden Project in Santa Cruz, CA, that feeling rocked her to her core. She needed to find a way to help. But more than that, she needed the best way to help.
As she started to dig into the struggles of people experiencing homelessness, she found that shelters were really only one piece of the puzzle. Darrie was thrilled when she stumbled onto the Homeless Garden Project in 1991, just a year after it started.
The vision of Paul Lee, a member of the Citizens Committee for the Homeless, the Project was based on his passion for gardens, his commitment to addressing homelessness, and his respect for the California Conservation Corps. Paul valued the dignity gained by Corps members doing service for the environment. After spending the night at the Homeless Garden Project shelter, Paul wondered how anyone could ever dream of something better while living on the street– without having safety and beauty in their daily life.
When Darrie got involved, Lynne Basehore had worked as a volunteer for nine months to implement Paul's vision. She talked with the volunteers at the farm—people experiencing homelessness—to understand how the Project could best serve them, and Homeless Garden Project was born. With a stated mission of helping "people find the tools they need to build a home in the world," the Homeless Garden Project offers job training, transitional employment, and support services.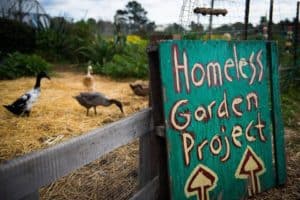 Trainees work alongside volunteers to grow, harvest, and sell produce and flowers. Some of the food from the garden is distributed via CSA programs, sold at a farm stand, or distributed to families in need at nonprofit partner organizations, while some is used to provide nutritious daily lunches for program participants.
"When we look at what our ''trainees" really want," Darrie says, "It's jobs. They want jobs. The tricky part is that you need a job to get a home, and you need a home to get a job; homes provide basic stability needed to succeed in a job." At the Homeless Garden Project, Darrie and her team have served over 600 homeless individuals. In 2017, the Project has provided 10,000 hours of paid transitional employment. Program participants gain real skills that can prepare them for a variety of positions in California's agriculture economy: irrigation, pest control, greenhouse operations, working at a farm stand, and growing and preparing cut flowers.
The Project has worked to tackle homelessness, poverty, and inequality since 1990, and in 2011 shifted their goal from simply helping people achieve wellbeing to getting participants jobs and homes. They are currently operating at a 90%+ success rate. They recently secured a 20-year lease on 9 acres of land from the city of Santa Cruz, moving from more temporary locations to an established and recognized institution in the community. They hope to double the population that they serve by 2020.
When we asked Darrie what "Wholesome to the Core" means to her, she told us "the environment and people are intertwined. They are one." Wholesome to the core embodies a philosophy of sustainability and regeneration, from an environmental as well as a community perspective. "It's in the soil," she says "and the people who eat food, people who need to be engaged, people who need opportunity, and need to feel empowered."
How can you get involved?
In addition to the healthy and nutritious produce and fresh flowers sold at the HGP Farm Stand, the Homeless Garden Project operates a value-added social enterprise creating more than 40 products out of the organic material grown at the Farm. You can shop in their online store to have products like strawberry jam, gardener's soaps, herb salts, and lavender sachets sent to you directly, with all proceeds benefiting their programs for individuals experiencing homelessness. Check out Homeless Garden Project's website (www.homelessgardenproject.org) for more information on their products, programs and how to support them with a charitable donation. It is thanks to support from individuals who care about their vision that they've been able to serve people, with 91% of recent graduates obtained stable income and housing.
And if you're in the Santa Cruz Area, you can also get involved by volunteering! The volunteer program is flexible and allows for varied interests and schedules. Contact the volunteer coordinator at Keren@homelessgardenproject.org to get started.
Not in Santa Cruz? Darrie has become a mentor for similar projects around the country. Take a look to see if your community has organizations like the Homeless Garden Project. If you don't find one, you may consider starting one!
Rainier Fruit is truly honored to call Darrie and the team at Homeless Garden Project Wholesome Heroes. You can stay in the loop with their efforts by following them on social media @homelessgardenproject.