Becky Andrews got her first guide dog 21 years ago, from Guide Dogs for the Blind. She had always been an active person, but after being diagnosed with Retinitis Pigmentosa (a condition that causes gradual vision loss) she felt like she was slowing down and had trouble safely getting out and about. Now on her third guide dog (guide dog teams typically spend 7 or 8 years together), a lot has changed. Becky will be running the Boston Marathon for the second time on April 16th, and this will be her 8th marathon overall.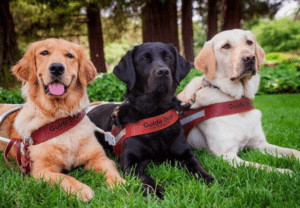 Guide Dogs for the Blind
"Getting a guide dog is a very freeing and empowering journey," Becky relates, "I love biking, running, and traveling, so as I was losing my vision I had to get creative and find a way to do those things." Guide Dogs for the Blind creates a wonderful community of donors, volunteers, and trainers. The organization has been around since 1942 and was originally formed to serve veterans who had been blinded during their service. Now, it is the largest guide dog school in North America, with campuses in San Rafael, CA and Boring, OR that graduate 300 teams per year.
While her guide dog, Georgina, helps her navigate safely through the world, Becky is quick to credit her husband of 34 years as her most incredible supporter. He has been her teammate and champion, and has continuously helped her find ways to chase her dreams and achieve her goals.
Inspiration
"Becky is a very accomplished person," remarks Karen Woon, VP of Marketing for Guide Dogs for the Blind, "She is a licensed clinical mental health counselor who works with individuals, couples and families experiencing chronic illness, loss and trauma. She started her own practice, Resilient Solutions Inc., with her husband, and now 15 other therapists work with her. She also started a non-profit called Oasis Center for Hope that offers support to individuals, families and communities experiencing a loss. She's been a leader in our organization and a wonderful ambassador for the guide dog program—in fact, she was the chair of our alumni board for several years. More importantly, though, she's a truly kind person who focuses her energy on helping others."
To say that Becky is an inspiration is really just scratching the surface. When she began to lose her vision, her parents connected her with a therapist who was blind. Meeting this woman, who led an active, fulfilling life with a thriving career gave Becky a model of what her life could be, and showed her that blindness did not have to keep her from doing the things that she wanted to do. Now, Becky fills that role for others.
Daring to Own Your Story
At the National Ability Center in Park City, UT, Becky holds "Daring to Own Your Story™" retreats for women who are blind: long weekends with hiking, ropes courses, therapy work and other activities focusing on empowerment and connection. Now planning the 5th retreat in 2 years, Becky describes the sisterhood forming between the women who attend. "Connecting with others was hugely helpful while I was going blind. I had mentors to show me the way and teach me things, like 'hey, here's how you can run a marathon when you're blind." That support and mentorship meant so much to me, so now I want others to know that they aren't alone." The retreats have so far been geared toward women, but moving forward Becky plans to expand to include men and families.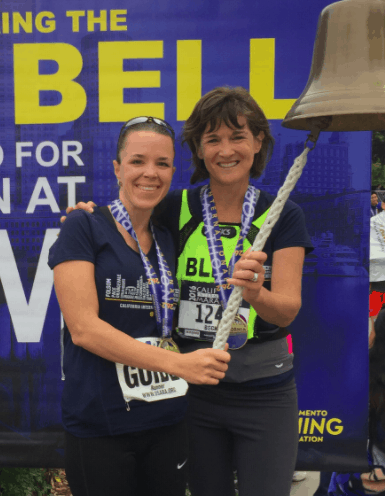 When things get challenging, Becky hopes that her "sisters" can draw on the obstacles they have overcome (physical and mental) at the retreats. "We all learn from each other," she says, "so bringing people together with the intention of empowerment is huge. I have learned so much from these remarkable women. It's not just me, it's really them sharing and connecting and supporting one another. I've just had the wonderful opportunity to bring them together."
Running Marathons and Breaking Down Barriers
Years ago, a friend encouraged Becky to run marathons, and now one of the women who attends Becky's retreats is running her first marathon. Becky sent her a tether (runners who are blind use a tether to connect them with a seeing partner to safely navigate the course). "She's going to complete this marathon," Becky remarks, "and then think of what else she can accomplish!"
Becky's biggest piece of advice for others
Choose kindness and gratitude. Find a way to make a difference and help others each day. Find a passion and choose compassion for yourself and others. As she shares in her book -the message of her guide dog: look up, move forward. It's a guidepost for life.
We wish Becky all the best as she runs her 2nd Boston Marathon on Monday. Rainier Fruit is truly honored to call Becky Andrews a Wholesome Hero.
To learn more about Becky Anderson, visit: http://www.beckyandrews.info/
To learn more about Guide Dogs for the Blind, visit: https://www.guidedogs.com/