Anneliese Tanner is a school food superhero. Nearly three years ago, she took over foodservice operations at Austin Independent School District (ISD), and since then has revolutionized every facet of how kids in the district eat at school. However, like many of our Wholesome Heroes, Anneliese didn't start her career in the field that has become her passion.
Setting Intention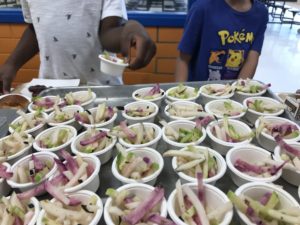 "I started my career in finance," she recalls, "but then I realized I was looking for a different legacy." Passionate about food and the environment, Anneliese returned to school to earn a Masters degree in food systems. She set her sights on becoming the foodservice director in a large urban school district. She knew that would give her an incredible opportunity to make an impact.
On her way, she worked for a seafood distributor in New York, where she truly learned the power of the penny (which has come in handy working within tight budgets). When she returned to Texas, she worked her way up through other districts before coming to Austin. Coming into her dream role, she had concrete goals. "I really wanted to listen to the community, and also improve our procurement." She explains. "I wanted to source high quality food being mindful of not only student health, but the health of the environment, and also be a great partner for our producers."

The Impact
Anneliese has launched a number of new programs and the results are impressive. "Students are really happy," she says, "One of our biggest initiatives is having breakfast in the classroom. We have high participation, and the kids really like it. It gives them a great base for the rest of their day." Her department has also established salad bars in all of the schools in the district. "Adults were skeptical," she recalls, "they didn't think the kids would go for it, but the students actually love it. The project has been a major success."
Food Truck Program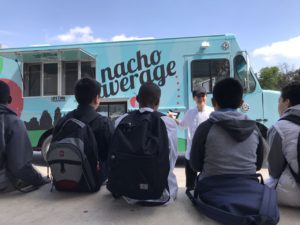 One of the standout projects that Anneliese has pioneered is the district's food truck program. "Food trucks are such a ubiquitous part of Austin's food culture," she remarks, "from an outside point of view, someone might think that part of the culture is accessible to everyone in the city, but that's not the case. We make it possible for students to use their lunch account at the food trucks, so they can all access that part of Austin's culture regardless of their background."
The food trucks bring different types of cultural cuisine to students, broadening horizons and encouraging food as a means of cultural exploration and exchange. "When the program started, we had students asking how much lunch at the food truck cost, thinking that they'd have to pay out of pocket. They were so excited when they learned it was covered under their lunch account."
Changing Food Cultures and Scratch Cooking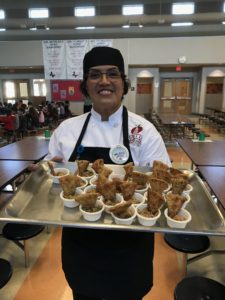 Global flavors aren't just coming from the food trucks. Focusing on global flavors is another major initiative in Austin ISD's school kitchens. "We're a diverse city, and it's important to represent all our students: giving some a taste of home and giving others a chance to explore something new." Some food items don't do well right away, but Anneliese keeps them on the menu to give kids a chance to get used to things. "Changing food cultures is difficult," she reflects, "it takes time to change minds and change palates. That can be challenging for everyone, but it's important."
The menu items weren't the only big change in the kitchens. Anneliese changed the kitchen workflows in the district from "heat and serve" to scratch cooking. This move has required a lot of training, but the staff couldn't be more excited. "They care so much about the students." Anneliese explains, "It's a lot of extra work, but it's worth it. Not all of our students get home cooked meals. We want to make sure that they're having culinary experiences outside of fast food. If they aren't able to have that at home, at least they can have it at school."
Anneliese's impact on the food culture within Austin ISD in just a few years has been nothing short of amazing. Implementing ambitious initiatives under tight budgets within a large bureaucracy seems a superhuman task to anyone with experience working in a large district. We can't wait to see what Anneliese is able to accomplish in the years to come.
Rainier Fruit and our partners and the Whole Kids Foundation, are truly honored to call Anneliese Tanner a Wholesome Hero.