Working in urban planning and architecture, Amanda Zullo came to realize the many ways our communities can dictate our quality of life. Beyond the buildings and community fixtures, easy access to nutritious food makes a substantial impact on the health and wellness of a population.
The push to take action took hold while Amanda was traveling through China on business. Her team toured many different facilities, but an urban agriculture center was by far her favorite part of the trip. "It was such a gem," she explains, "but then we learned that it was about to be eliminated to make space for a large corporation's parking structure. It was devastating." While some may have considered it progress, for Amanda the replacement of the urban source of fresh produce was indicative of a systemic problem affecting her own country as well as China. "I felt a new calling," she says "I had gotten into architecture as a way to tackle world problems, but I realized buildings weren't enough. I had this void to fill—I needed to do something to give back."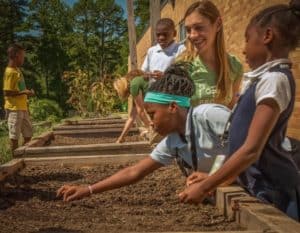 Pop Up Produce was one of twenty concept ideas in the nation that were funded by a micro-grant from the Knight Foundation and 80 cities. Amanda saw growing food and the education surrounding food production as a viable solution to the "food desert" problem facing many communities. Pop Up Produce creates and distributes Fresh Start Garden kits (basic gardening kits). When one kit is purchased, the group donates kit resources to families that live in food deserts and a team of volunteers teaches residents and students how to plant and grow food. The kits became available for purchase on Amazon in 2016, and in 2017 Pop Up Produce began the process to become a non-profit.
This isn't just about food for Amanda; it's also about community. Pop Up Produce provides kits for community hubs: Title 1 schools, civic centers, and gardens located within food deserts in her home city of Charlotte. Volunteers can help out with planting, weeding, packing Fresh Start kits, education and more. "Volunteers are longing to get plugged in," Amanda states, "I think that zoning can tend to divide people and too often we don't know how other people live. Volunteering allows us to connect and bring people together with a common vision."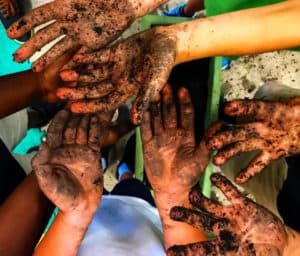 The most rewarding aspect of the endeavor has been watching kids learn to grow food. "I didn't really know how to grow food, even as an adult," she says, "so seeing kids, especially young kids, getting excited and learning these valuable life skills is great." At many of the title 1 schools where Pop Up Produce is active, growing food becomes a hands-on application of the students' science curriculum, weaving practical knowledge into lessons about plants and photosynthesis.
Recently, Amanda's journey brought her back to China. She was invited to participate in the inaugural U.S.-China Youth Forum on Entrepreneurship and Innovation, sponsored by the U.S. State Department and the All-Youth China Federation. Along with 49 other American entrepreneurs and 50 Chinese entrepreneurs, Amanda headed to Shenzen, China to discuss innovation-driven ecosystems and connect with prospective investors while boosting ties between the two nations.
What's next for Pop Up Produce?
Amanda looks forward to duplicating the model she's set up in Charlotte in other cities around the country, correlating her efforts to food deserts while building up her team of volunteers.
What does "Wholesome to the Core" mean to you?
"Wholesome to the core is about what you put into your body, what you put into your mind, and what you put into your soul," Amanda explains. "It's about building a sustainable lifestyle, being grounded and present in your life, and being there as a beacon of light for other people."
How can you get involved?
Visit www.popup-produce.com to purchase garden kits and t-shirts, learn about a variety of volunteer opportunities, and stay in the loop with Pop Up Produce news.
Rainier Fruit is truly honored to call Amanda a Wholesome Hero.
Follow Pop Up Produce on social media:
https://www.instagram.com/popupproduceclt/
https://twitter.com/PopUpProduceCLT