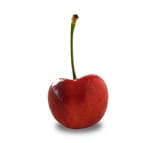 Sweetheart Cherry
As the name suggests, Sweetheart cherries are indeed heart-shaped. They are large, bright red cherries that mature one week to 10 days after Lapins (3 weeks after Bing). Sweetheart cherries have a mild sweet flavor and outstanding firmness.
Harvested
July-August
Color / Flavor
Bright red skin with matching flesh. 16-19% fruit sugar.
Cherry recipes
Cherries are a great snack, but are the perfect ingredient to many great dishes. Get inspiration here.