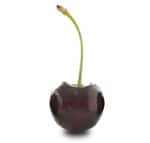 Skeena Cherry
Large, sweet, and very firm, Skeena cherries continues to grow in popularity with consumers and growers. Maturing about 16 days after Bing, this dark red to almost black variety has a very dense texture. This is a great late-season variety.
Harvested
July-August
Color / Flavor
Dark red to black skin with dark red flesh. 19-20% fruit sugar.
Cherry recipes
Cherries are a great snack, but are the perfect ingredient to many great dishes. Get inspiration here.