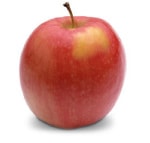 Pink Lady® Apples
Firm, crisp flesh and a unique, tangy-tart flavor are characteristic of this apple. Snackers and bakers give the Pink Lady® apple high marks in consumer tastings. Crisp fall nights bring on the bright pink color that gives the apple its name.
Parentage
Golden Delicious and Lady Williams
Availability
November-August
Usage
This sweet-tart apple is a snacking favorite, but has a good texture for baking as well.
apple recipes
Apples are a great snack, but are the perfect ingredient to many great dishes. Get inspiration here.