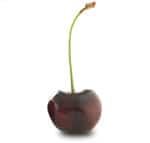 Lapin Cherry
Lapin cherries are large, mahogany red cherries that mature about ten days to two weeks after Bings. They are known for their size, excellent firmness, and rich flavor.
Harvested
July
Color / Flavor
Deep mahogany red skin with slightly lighter red flesh. 16-18% fruit sugar.
Cherry recipes
Cherries are a great snack, but are the perfect ingredient to many great dishes. Get inspiration here.