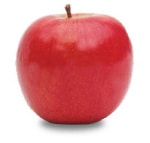 Jazz™ Apples
The JAZZ™ apple came to be when curious growers in New Zealand married the Royal Gala to the Braeburn. Add the Braeburn's lively zip to the Royal Gala's sassy sweetness and what do you get? An apple called JAZZ that comes by its extra dose of attitude naturally. The apple's uniquely satisfying crunch makes it perfect for an on-the-go snack.
Parentage
Braeburn and Royal Gala
Availability
September-July
Usage
A refreshing choice for salads and snacking.
apple recipes
Apples are a great snack, but are the perfect ingredient to many great dishes. Get inspiration here.