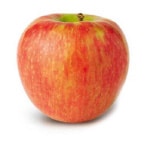 Honeycrisp Apples
Honeycrisp apples have a yellow-gold background generously brushed with vibrant red. Shallow dimples and yellow speckles (lenticels) are the tell-tale characteristics of this variety. An infamously tricky variety to grow, Honeycrisp earned its name with crunchiness, sweetness and juiciness that has garnered the apple a cult-like following. 
Parentage
Keepsake and unknown parent.
Availability
Year-round
Usage
The Honeycrisp apple is a popular snacking apple, but it is also suitable for baking, sauces, or adding into salads.
apple recipes
Apples are a great snack, but are the perfect ingredient to many great dishes. Get inspiration here.