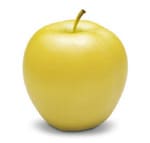 Golden Delicious Apple
The Golden Delicious is not related to the Red Delicious, but was introduced by the same family, the Stark Brothers. It was discovered in 1890 in Clay County, West Virginia as a chance seedling. Golden Delicious apples are highly aromatic with a sweet, spritely flavor and a crisp, juicy flesh.
Parentage
Unknown. Possible parents are Golden Reinette and Grimes Golden.
Availability
Year-round
Usage
The Golden Delicious is the original all-purpose apple. It is suitable for snacking, salads, pies, sauces, and freezing. It is considered an excellent apple for pies.
apple recipes
Apples are a great snack, but are the perfect ingredient to many great dishes. Get inspiration here.