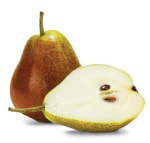 Forelle Pear
Forelle pears are one of the smallest varieties of pears and are known for their sweet flavor and juiciness. Unlike most other varieties of pears, they turn bright yellow with crimson freckling when ripe.
Availability
September-February
Usage
Snacking is the best way to enjoy a Forelle due to its small size and exceptional sweetness.
Pear recipes
Pears are a great snack, but are the perfect ingredient to many great dishes. Get inspiration here.