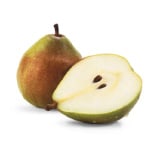 Comice Pear
Comice pears are the sweetest and juiciest of all varieties of pears and are a favorite in holiday gift boxes and baskets. Their flesh is very soft, and can best be described as creamy in texture, abundantly full of juice, and very sweet.
Availability
September-March
Usage
Because of the exceptional juiciness of the Comice, it is recommended only for fresh eating.
Pear recipes
Pears are a great snack, but are the perfect ingredient to many great dishes. Get inspiration here.