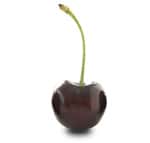 Chelan Cherries
Chelan cherries are the leading early-ripening sweet cherry of the Pacific Northwest. These cherries ripen about two weeks ahead of Bings. Chelan cherries resemble Bings as they are also firm, round, heart-shaped fruit of good size.
Harvested
June
Color / Flavor
Mahogany red skin with medium to dark red flesh. 16-18% fruit sugar.
Cherry recipes
Cherries are a great snack, but are the perfect ingredient to many great dishes. Get inspiration here.