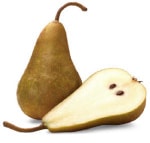 Bosc Pear
Bosc pears are an elegant variety with disctinctive characteristics that set them apart from other pears. Those who are familiar with Bosc, appreciate their more firm, yet tender flesh and their sweet-spiced flavor. Bosc have brown skin hides and a delicious, spicy and slightly firmer flesh.
Availability
September-May
Usage
The firm texture of the Bosc makes it an excellent choice for baking, broiling, or poaching. It can also be enjoyed for fresh snacking or in salads.
Pear recipes
Pears are a great snack, but are the perfect ingredient to many great dishes. Get inspiration here.